Blog
Advertise Scary Halloween Sales with these Effective Popups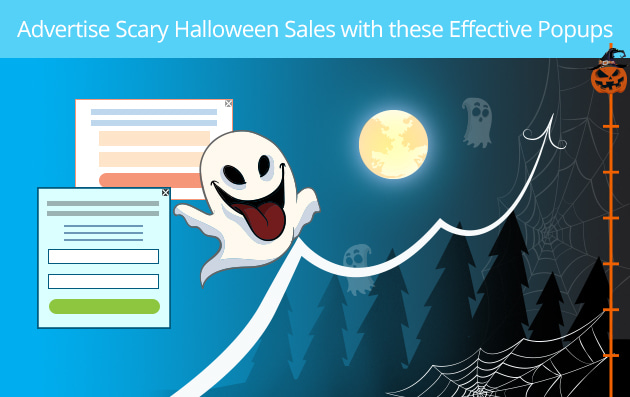 Don't hesitate to scare up customers with fantastic sales during Halloween celebrations! Picking up super effective marketing strategies to advertise sales and applying them to the success of your business is now quite real.
Your Scary Halloween Sales Need Attention!
Attracting attention is exactly what you need to do to arise interest in plausible customers to your deals! For this purpose, you should address both general and targeted audience. Certainly, you will not get the desired results even if you exert yourself unless you perform an appropriate targeting of customers.
So below, we have presented 6 super effective popup types that can boost your sales making both general and targeted offers.
Subscription popup
Subscription popup can be successfully used to attract customers to your spooky holiday sales. Just make one and place it on your landing page. At the same time, you can give some incentive in return for subscribing. Offer "Scary Halloween deals" for subscribing to your newsletter. The "Scary deals" should look too good to be true:) This means that plausible customers will possibly wonder if the sale is real. But ultimately, they will believe it and subscribe to the newsletter. Thus, giving the discount and taking the emails, you get a chance to keep the customers engaged to your offers for quite a long time.
Image popup
Image popup is another effective strategy used to attract plausible customers' attention to your scary holiday sales. The core counterpart in creating an attractive image popup is designing a charming image along with a persuasive text message. Just integrate the image into the popup, set the other fundamental configurations and success in attracting the attention of plausible customers is on its way. Once you create a polite popup and place it on your landing page, you can rest assured that the fruitful results won't make you wait long.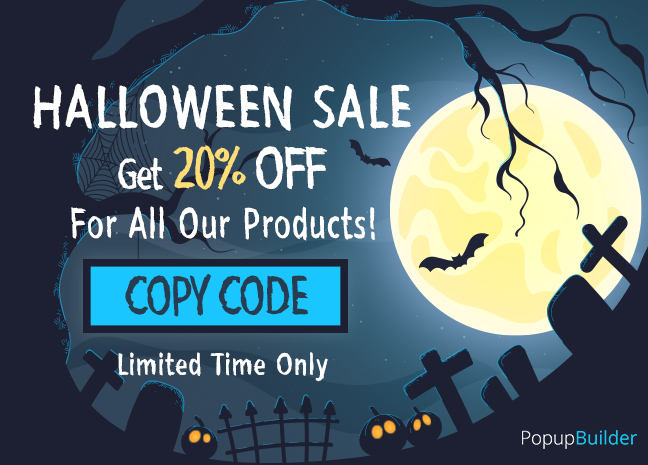 WooCommerce popup
Why not make use of targeted offers to make spooky sales more influential? Customer segmentation taking into account shopping cart behaviors is possible through configuring WooCommerce options from the settings of any relevant popup type. Thus, when you give WooCommerce options to a popup, it gets the power to detect plausible customers' shopping cart conditions. The feature can detect four of these conditions. Namely, the number or the absence of products on the cart, the names of the products and their total price. Based on the info outsourced from WooCommerce, you can make relevant and targeted offers through a popup. The message conveyed through the popup is conditioned by the behavior you want to detect. In the example below, it has been detected that there are shoes on the customer's shopping cart. The popup has been crafted taking this fact into account.
Live sales/Recent sales popup
Meet Live sales/Recent sales popup! This popup type will serve as a social proof to reassure visitors of the high quality of your products and/or services. The idea of this popup type lies in the psychological influence you can have on visitors. The fact is that most people need additional feedback from a crowd of people to make a final decision. So, help visitors to dissipate their doubts showing them the head-over-heals holiday sales you will be making. The popup enables showing who purchased your product, as well as some details about the purchase.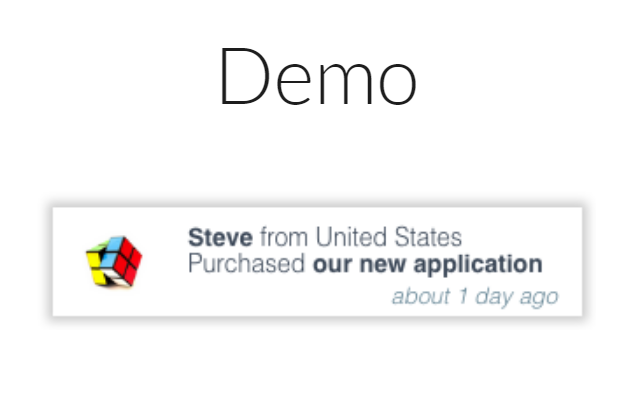 Countdown popup
Scary sales ending? Want to take your last chance to attract customers? Create a feeling of urgency in visitors through a countdown popup letting them know that the sale is going to end soon. Displaying an attractive image, a persuasive text message and a counter with decreasing numbers (days, hours, minutes, seconds) on the popup will successfully serve your goal in making more sales.  
Exit-Intent event
Giving this event to your popup will increase the chances to bring back visitors that may have failed to notice your frighteningly cool offers. This popup will appear just at the moment your visitor moves the mouse pointer out of the website area and wants to leave it. So, don't miss a real opportunity to attract attention making scary deals through an exit-intent popup.  
By the way, to ensure that advertising spooky deals through popups is maximum effective you should make them soft and polite. Aggressive popups won't give the desired effect when it comes to advertising holiday sales.

You can check out this article for more details on how to make a polite and unaggressive popup.
What makes our deals exceptional!
Our spooky deals begin before the celebrations so that our users have enough time to fix the popups on the site. Good news! Our super deal is already active on the site. Go and get it to boost holiday sales' success.