Blog
Enjoy Big Discounts on Popups Before International Children's Day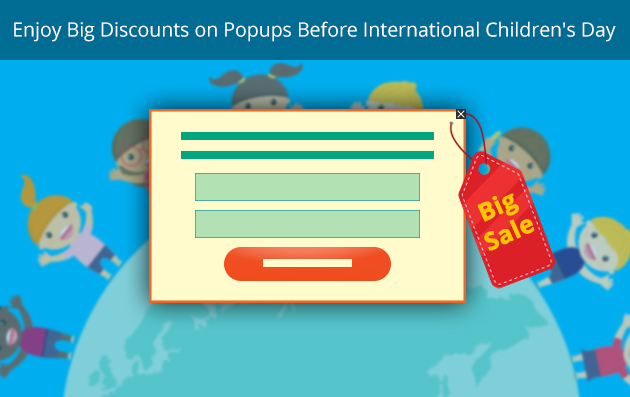 Happy children's day to all of us! Actually, most people are children at heart, at times mischievous, at times wayward, and always looking for a miracle. Indeed, childhood is the happiest time for most people when the world turns around a loving mother, a strong and caring father and kids' innocent playfulness. It's like a fairy tale.
So, have you already taken the initiative to make the fairy tale more real?
If you are the owner of a business that produces or imports products for children or if you provide other child-related services, you are good to go and prepare for deep discounting before the international children's day. Think not the time? Really can not afford? Or maybe next year? Oh, no, you don't want to make children happy:( Then, you are sure to lose the competition. If you miss the opportunity, be sure that the other sellers will take up the chance and soon be well-rewarded.
Marketing strategies to anounce the sales!
But we do believe that you really want to afford big discounts and thus, make more sales on this holiday. So, you must be looking for outstanding online marketing strategies to announce the sales' offers. If so, you have come to the right place to discover different popup types intended to boost the holiday sales significantly.
When do our sales begin? 
Among the rest, be especially attentive to the special sales' offers on our popups starting before the actual holidays. This is done for the convenience of our customers as most often they need some time to set up popups comfortably on their sites.
1. Subscription popup
In order to have solid grounds for running successful email marketing campaigns, you should be planning the actions beforehand. First, you need to invite the visitors to subscribe to the newsletter through an attractive message. One of the most effective strategies applied over the web is enclosing this message into a compact and beautiful Subscription popup. Once you have the email database, you are good to go and surprise the subscribers with mutually beneficial offers before the actual June 1 celebrations!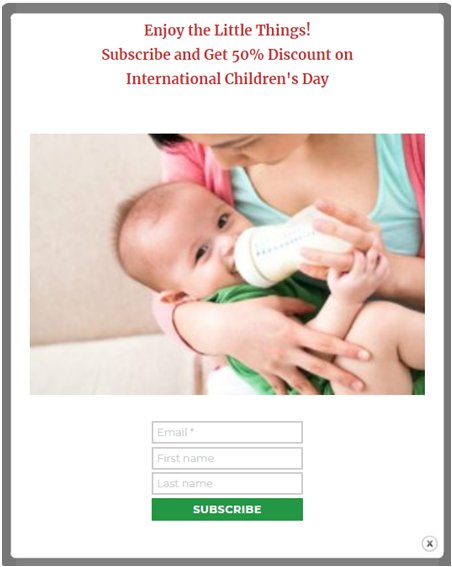 In case you want to differ by adding extra fields into the popup, AWeber and MailChimp extensions are a perfect fit for it.  For better segmentation, ask for contact and/or personal info about the subscribers.
2. Countdown popup
Let the visitors know that the discounts for Children's Day are not going to last forever. A compact Countdown popup will give an emotional hint to the message. The visitors of your website will be excited when they see the numbers decreasing and declaring the approaching termination of the offer.
3. Image popup
You can also announce the sales' offers through an Image popup. Just design a lovely and eye-catching image along with a persuasive text and you are good to go and use this image when making the popup.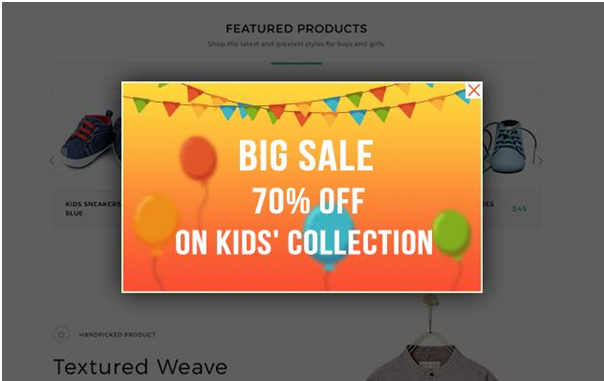 4. Facebook popup
Would you like visitors to do some part of the promotion for you? If yes, you should consider using a Facebook popup on your site. Through a simple message, you will ask them to like and share Children's Day special offers with their Facebook community. It's amazing how this strategy will work while you will be sleeping, having a rest or working on another project.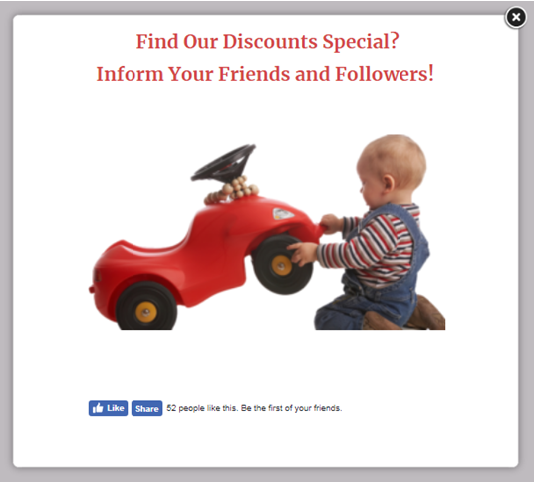 5. Social popup
Want to integrate other social networks as well? Then, make use of a Social popup so that the visitors share the beneficial sales' offers with their friends and followers on all the major social sites. Again, you will enhance the promotion when you are busy setting up other issues or just having a rest.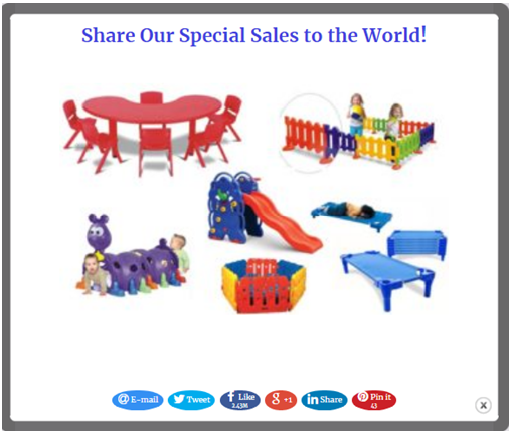 6. Video popup
Did you know that you can show a video in a popup window? This has been made possible through a Video popup. For instance, you can choose one of your YouTube videos, copy its URL and paste it into the appropriate field. This strategy will give a boost to the video marketing operations.  
7. Exit-intent extension
Bringing back abandoning visitors is possible with the Exit intent technology. When Javascript programming language detects the mouse pointer holding on the close button to leave the website, a popup window will appear with a text message asking to stay on the site. You can suggest considering another offer of yours. Try to make an alluring offer to be considered before leaving and you will have real chances to bring back the abandoning visitors.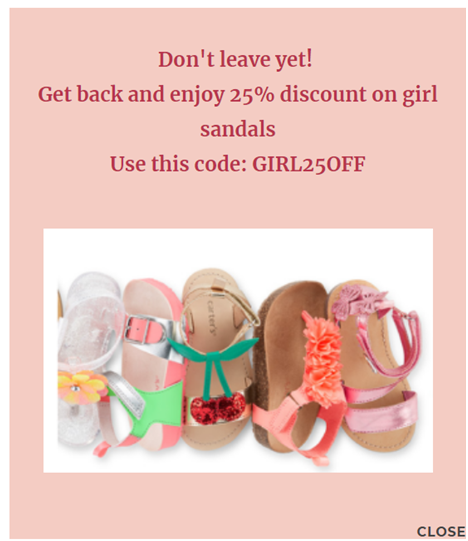 8. AdBlock popup
No matter how much we avoid seeing ads, we learn about special sales offered by different brands through these same ads. Some people hate advertisements so much that they add an AdBlocking software to their browsers in order not to see them. But if you own a blog where you accept advertisements and get paid by advertisers per click, then you will certainly be interested in an opportunity AdBlock popup provides. On holidays like the International Children's Day, you can come up with a message asking visitors to turn off the AdBlocking software so that they can see the special offers by your partners on your site. And this message can be enclosed in a compact AdBlock popup window.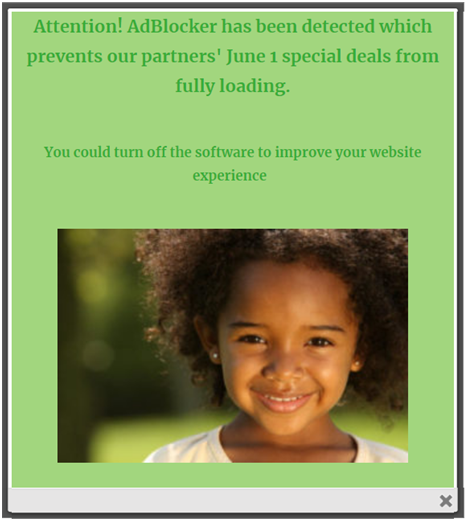 Please, note:
The wide variety of popup types doesn't suppose using all of them at the same time. To ensure you show polite attitude when making use of these effective tools you should use one popup on each page. Or else, make use of special opportunities like geographical targeting and scheduling popups. Making use of these strategies you can actually be using multiple popups on the same page each one set up to appear at different locations or at different periods of time.
Conclusion
Children's day is an international holiday, so many people all around the world are looking for big sales to surprise their loved ones on this day. Meanwhile, business owners are searching for effective ways to promote their sales' offers. One of the most practical online marketing strategies used to advertise by attracting attention to the offers of yours is called popups. The various types of popups give site owners an opportunity to choose those that can best suit their marketing needs. However, in order to show polite attitude, site owners also need to avoid stuffing many popups on a single page. To ensure showing polite attitude, web users can also make use of exceptional opportunities like geographical targeting through popups, as well as scheduling of popups.