Blog
Marketing trends for 2018
"Always choose the hardest way, on it you will not find opponents"
Charles de Gaulle
The thought expressed by the famous French leader is very inspiring. However, in our century of growing competition, it has become controversial whether choosing the hardest way and going for it will enable us to completely avoid competition. No matter what industry your business operates in, to overcome competition you should be farsighted to foresee the possible routes of its development.                 
At the end of every year, our professional marketing specialists analyze the approaches in marketing and particularly, in the popup industry coming up with appropriate suggestions. Indeed, time passes quickly and soon we will have to say goodbye to 2017. So, it's right to the point to analyze some of the marketing trends for the upcoming year.
Subscription popup
The popup industry is continuing to develop year by year. More business people use popups to engage their website visitors and improve conversion rates. One of the famous trends refers to e-mail marketing. Particularly, it refers to inviting visitors to subscribe to a mailing list through the subscription popup. This is a compact window that makes an appealing offer by appearing on the screen.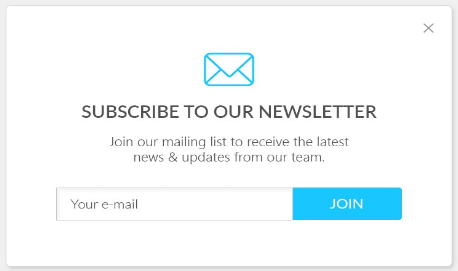 Age-restriction popup
Depending on the type of websites, their owners make different offers. As a rule, e-commerce websites make offers of discounts. Blogging or informative websites offer sending books, guides, podcasts and other materials free of charge. Thus, the general tendency is not going to change during 2018. However, special types of popups are going to manifest themselves as effective tools for increasing visitor engagement or maybe decreasing engagement by increasing website reputation. A dilemma? Well, how can decreasing visitor engagement increase my website reputation? The point is that if you have a website with adult or prohibited content, you are most probably not aimed at targeting children as your audience. So, when you use an age-restriction popup on your website, Google will see that you respect their policies and care of the junior population. Accordingly, it will rank you higher in its search.
The tendency for applying age-restriction is going to develop and expand itself gradually. So, if you have a website with adult or prohibited content and wish to make a step forward to reach your competitors and even outperform them, make sure to consider this trend for 2018.
Exit Intent popup
As to increasing visitor engagement for e-commerce websites, a developing tendency is the use of exit-intent technology. This strategy has also been trending this year, and in 2018 it is going to be used more frequently by e-commerce websites. It represents a small window appearing just at the time a visitor wants to leave the page. It aims to prevent the act of abandonment.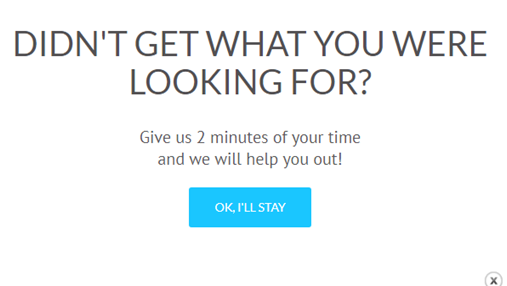 Another privilege of the exit-intent technology is that it represents an overlay popup, which cannot be banned by a popup blocker software.
Video marketing
Among the trending strategies in 2018, special credit should be given to the application of video marketing strategies for boosting website presence. Especially notable is the fact that more and more websites start using videos within their content. The latter, besides being engaging and beautiful, also serves marketing goals. Let's have a look at a screenshot I have taken from a website in a content marketing industry.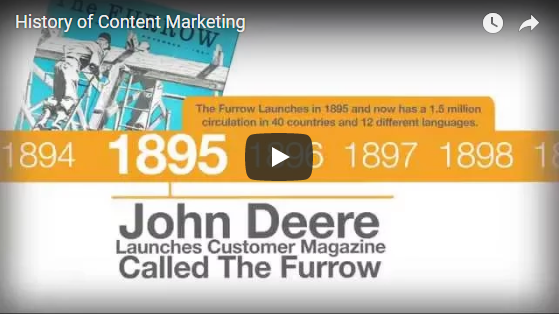 Now, do you consider it to be an attractive and useful strategy? So, in addition to being attractive, it also serves video marketing needs. If you have a video, say, on YouTube social media platform, placing it on your website will surely increase its views. Another option used as a YouTube marketing strategy is making a video popup on your web page and setting the autoplay option. This will ensure for the popup to play automatically after the page opens. It is also a trending strategy the application of which will help you outperform your competitors.
Live chat service
When speaking of customer support, one of the most engaging and productive services, that is "Live Chat" service comes to mind. "Live Chat" window is the one that appears in front of you whenever you enter an e-commerce website. Companies using such services care of their brand reputation and productivity of their work. Indeed, "Live Chat" service allows agents to manage the messages quickly  and effectively through the opportunity to run multiple conversations at a time. Some "Live Chat" agents are so busy that sometimes they are physically unable to handle so many messages. That's when bots come to assistance.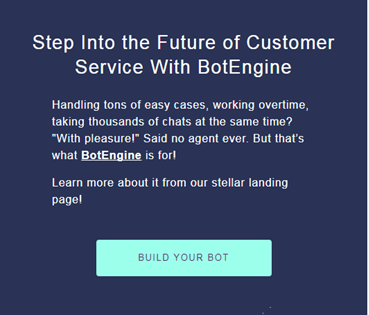 Thus, in the screenshot above, you can read the main purpose for creating customer support bots. These harmless creatures will save agents a lot of time. They give an opportunity to concentrate on tackling difficult and problematic cases. Of course, these are paid services so think it over before making an important decision.
Contact form popup
If you will be offline 20 hours a day, then this is not a good idea to pay for this service and not to use it. In this case the use of a contact form popup  might be a better option.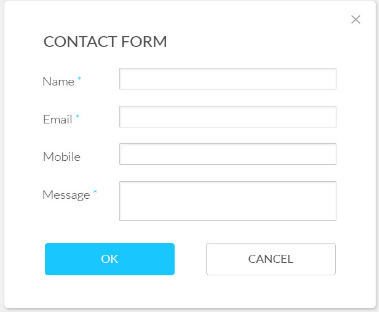 To wrap it up
You should always make a step forward and envisage the upcoming developments to reach or outperform competition in the market. To achieve this, we meant to share some great ideas. The latter are real and actionable tips based on our own experience in the industry, as well as relevant research. Certainly, if you are in online marketing industry, you can have your own ideas and predictions. So feel free to share them in the comments section of our blog in case they are fresh and valuable.