Blog
Popups: Multiply your Budget on Global Shopping Day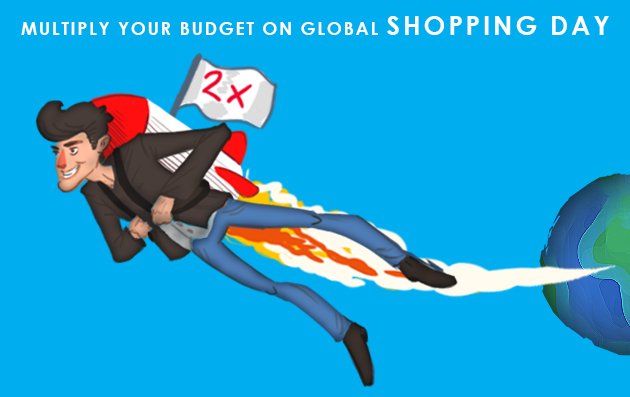 Have you ever experienced a feeling of loneliness on international holidays like the International women's day or St. Valentine's day? Most probably you have often been deprecated by your relatives and friends in relation to your single status. Well, we are here to help you out! Just relax and go ahead to download some piece of music like Lou Bega's "I wanna be lonely". Choose shopping as one of the most effective ways to pamper yourself and throw off all the stress.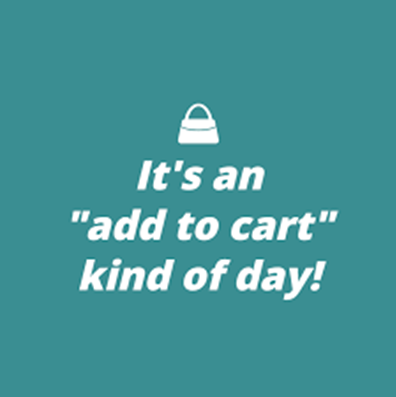 The Origin of Singles' Day
In a similar way, Chinese Nanjing University students decided to relieve the stress of loneliness back in 1993. The desire to find a girlfriend brought a lot of young men together to celebrate their single status on 11.11 (the 11th of November) as the contrary to St. Valentine's day. This culture spread among other Nanjing university students and then, rooted in the society enrolling female population as well. At present also called the "Global Shopping Day", the "Singles' Day" became a brilliant opportunity for retailers. On the day of the celebration they can start advertising campaigns and announce special sales. Albeit its origin goes back to China,  businesses around the world have adopted the tradition not to fall back from the competition.

How to Boost Sales on Global Shopping Day!
To cut a long story short, if you own a business, you should avail of the global shopping day's special opportunity. You will make more sales by offering discounts on your products. Looking for practical strategies to realize your advertising intentions?In case your business is online and you run a WordPress or Magento powered website, give priority to polite and captivating popups.
Why popups?
Well, let's think liberally. What a lady does when she wants to stand out from the crowd of other women? Right, she wears an eye-catching and fashionable dress! Well, perhaps some other minor tricks are included as well. Here is the point! In order to make more sales on this day, you should stand out from the crowd of online sellers. The best way to do it is to make sales' offers through attractive, engaging, and relevant popups.
Popup Builder's Sales!
As you can see, every conscious business owner makes sales on this day and the Popup Builder team is no exception. What's more, we care of your convenience, that's why we have discounted our popups before the sales boom so that you can fix them on your websites properly still before the important date. Thus, let's get familiarized with the popup types that will work best for you to multiply your budget on this all-inclusive international event.
The essence of the celebration itself supposes using the types of popups that can efficiently serve e-commerce purposes. Let's dive deeper and see which are those popups and how to make use of them in order to reap the benefits in the near future.   
Listing the subscription popup in the first place is not occasional. If you prepare to make sales on the global shopping day or any other event, you should place this popup on your website ahead of the celebrations. Why is this so important? It makes sense because you will need to collect enough number of submissions. These are necessary in order to kickstart successful email marketing campaigns for that day. Getting users subscribed to your mailing list, pick up the submissions from the "subscribers" section and start announcing about your special discounts. Or else, if you would like to use MailChimp or Aweber subscription forms, you can connect either of your accounts to MailChimp or Aweber popups respectively. Later on, pick up the submissions from your account.  
Can you imagine all the activity taking place on the social networks on the Singles' Day? The users of the social media platforms will be super active on this day. So, if you have already announced the sale on your landing page, it's the right time to share the good news with your social community and in groups. In addition, push yourself beyond your limits by creating a social popup on your page. This way you give your website visitors an opportunity to share your page on their social networks.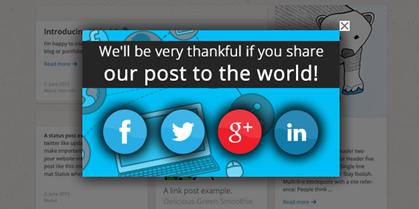 One of the most effective strategies used by e-commerce websites worldwide is the countdown option. As a  marketer, you should know that by exciting a feeling of urgency in your potential buyers you will help them to overcome procrastination. By doing so, you will get them to shop online. This can be achieved by making a decent and a compact countdown popup with the decreasing numbers showing the upcoming termination of the proposal.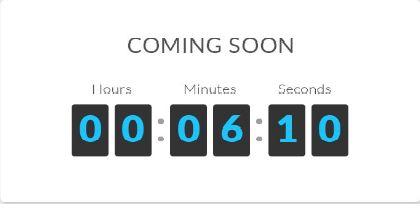 One of the most effective strategies to attract attention is the usage of an image popup. You can choose any image to convey a message to your visitors by catching up their attention. In addition, you can design your own image and it will serve the same purpose.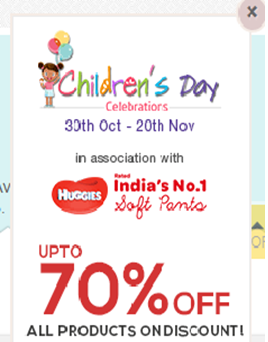 If you haven't considered using an exit-intent popup on your website until now, then it's high time to do that. Let's see how it works and why it is worth implementing. This is a compact window that appears on the computer screen just at the moment your visitor moves his/her mouse to the close button and is about to leave your website. Use this popup as your last chance to bring back your abandoning visitors. Believe us, this really works. Just ensure to make another useful offer through this window. For example, application of an exit-intent popup is one of the most practical strategies to prevent shopping cart abandonment. First, identify the possible reason why your potential buyers abandon their shopping carts. Then, make a relevant exit-intent popup to create a clear "Call to action" message. This way, being offered a more convenient option, most of your customers are likely to come back and convert.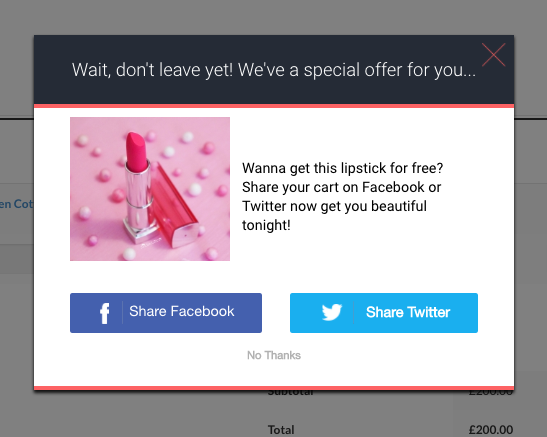 Why is politeness crucial?
Choosing the correct popup types is vitally important. But this is not enough. It is also essential to use polite popups in order not to annoy your website visitors. With the aim of making soft popups all you need to do is to give correct settings to your popups.
Wrapping it up
Surely, most successful businesses have already started preparing for the global shopping day. Actually, they are on the right path, because in case one fails to avail of this opportunity, they will end up with empty bank accounts. And the key to success on this beautiful day is making sales and afterwards promoting, promoting and again promoting. For this purpose, make use of popups as the most effective strategy to capture your website visitors' attention. Certainly, having all of your competitors running active promotional campaigns over the web creates the necessity to outperform them in any possible way. Thus, if you don't imitate discounts but can really afford to make them for the day of the celebration, we are sure that the following promotion will help you multiply your budget. What you need to do is to use the correct types of polite popups to catch up attention and to stand out among the rest.
Another Occasion to Celebrate!
But wait a minute! It turns out that being single isn't that bad, is it? You just have another day for celebration and also, the celebration is a brilliant opportunity for you to increase your revenue as an online shopper. After getting the revenue, you will surely sit back and tell yourself: Indeed, it seems loneliness isn't that bad after all.