Blog
A fresh and actionable guide to the essence of popups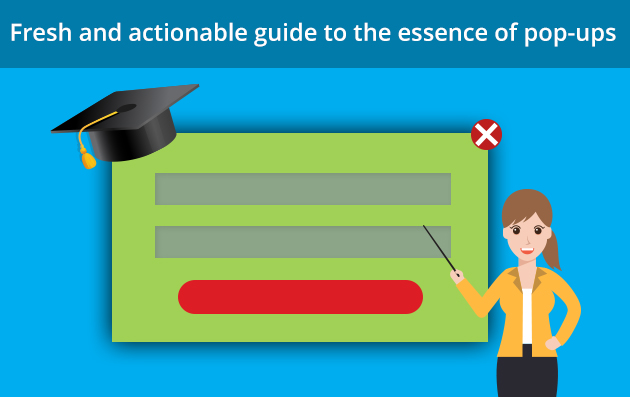 Did you know that Ethan Zuckerman created popup ads some 20 years ago? Surely, they expanded during this period as a result of web development and accordingly, were grouped into several classes. It's well-known that users don't seem to like this type of advertising. If you are one of those people, we strongly believe that going deeper into the essence of popups will change your stance significantly. So, saying that you don't like popups is just like saying that you feel antipathy towards someone you don't know. And the main objection made by people disliking popups is that they are annoying. Well, my friend, not all of the popups are actually annoying. Anyone can be annoying if they don't behave themselves in a proper way. For example, if they speak out of context or interfere into an affair out of their business, right?
Just like anything else, it's about placing the correct settings!
So, before any popup window appears on your screen, it passes a detailed creation process. You should determine all of the features and functions beforehand. Consequently, if you would like to break all of the stereotypes by making decent and polite popups, you have come to the right page. Firstly, we would like to introduce you to the types of popups as not all of the types may logically fit into one post. Secondly, we will present you some of the most important settings. Namely, the basic functions enabling to get content-relevant and polite popups.
Thus, let's start the ball rolling!
Let's open up our discussion with speaking about the popup types. In order to politely benefit popup opportunities, you should identify your main purpose. Namely, what action you would like your site visitors to take after seeing the popup. So, if you initially didn't mean to make an aggressive popup, it will never annoy the visitors of your site.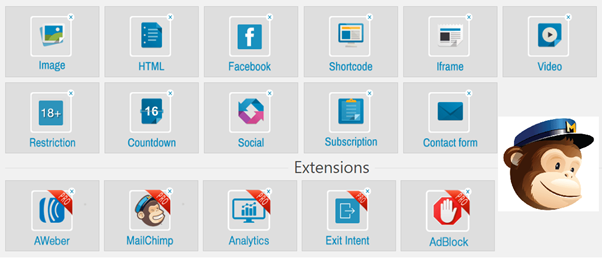 The goals popups adhere to
Generally, popups were created to serve advertising and marketing goals. For example, Facebook and social popups are created to meet social media marketing needs. Both of these popup types represent a small window appearing in front of your site visitors. Through this window you can ask them to share your material on their Facebook or social pages. A subscription popup supported by AWeber and MailChimp extensions is a brilliant feature for making your email marketing campaigns a success by gathering the emails of subscribers and synchronizing them.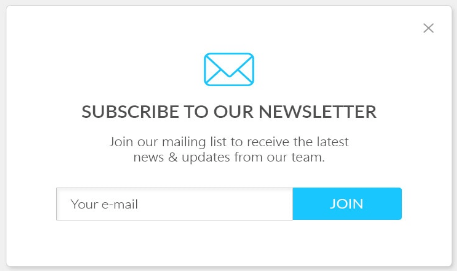 Psychology of colors in marketing
Furthermore, marketers use popups to increase sales by serving as emotional triggers. The latter basically include image and countdown popups. Thus, by placing an image popup on your site you represent a small and beautiful window. The way it will look is at your discretion. You can place any picture you like and it will appear within a popup. Accordingly, you can design the picture so that its pleasant appearance also evokes emotional feelings. More specifically, you must have heard about the psychology of colors and its great role in marketing. According to a research, 93% people look at colors first when deciding on buying a product.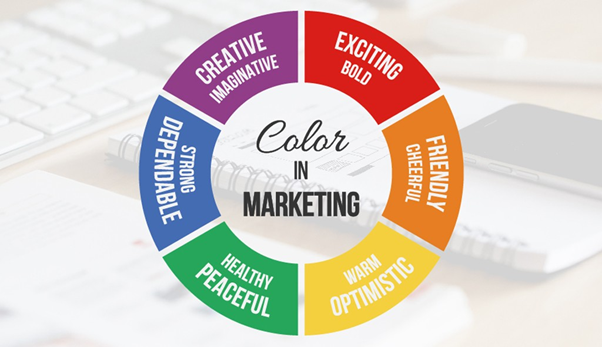 (image source here)
So, it's not only a matter of taste as to what color should be used on the picture. It is also a matter of psychology, as different colors have different psychological impacts.   
Excite a sense of urgency
As to the countdown popup, it represents a window with decreasing numbers that is used by e-commerce websites to awaken a sense of urgency. Through this window you can alert that the sale is going to end during the upcoming few hours, minutes or seconds. The idea is that when buyers see that the sale is not going to last forever they will make every effort to own the product.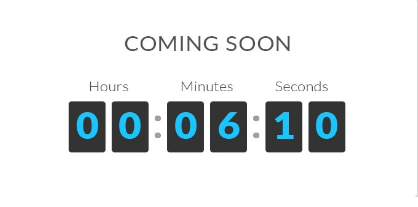 Contact form popup
Another type of popup ads is called a contact form popup. The latter is created in order to back up customer support services. This is a compact window appearing on the screen and creating an opportunity to contact website owners with any questions.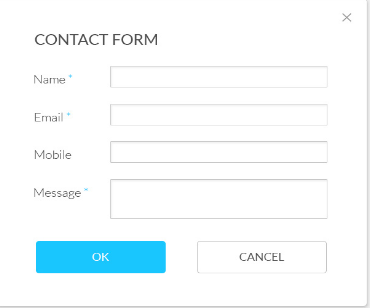 Video popup
One of the most effective popup types created to serve video marketing needs is the video popup. The main privilege of this popup consists in the fact that you can check the autoplay option from the settings. In this case, the video will play automatically as soon as the popup appears. For example, if you have placed a YouTube video within the popup, your YouTube video rankings will increase automatically when your video starts playing.  
Age-restriction popup
A special popup type created to be used by websites having an adult or prohibited content is the age-restriction popup which requires website visitors to confirm their age before they can enter and view the website. This is done in order to prevent children under 18 from viewing inappropriate content. You can benefit from using this popup as Google will increase your site reputation when it "sees" that you care of the junior population.
These popups allow placing codes and URLs within the small windows so that you can show any web page or plugin information within the popup.  
Exit intent popup
One of the most effective popup types is the exit-intent technology which comes to assist with bringing back the visitors leaving the website. Thus, as soon as a website visitor moves his/her mouse to exit the site, a small window appears making another offer like free books or sales' coupons. Most possibly, the abandoning visitor will change his/her mind and will respond to the offer.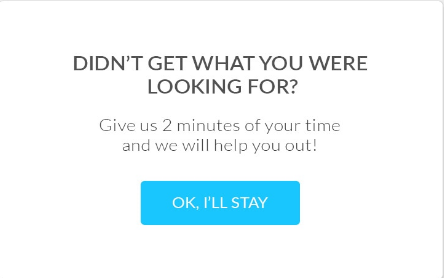 AdBlock popup
Another efficient feature used for advertising is AdBlock detect popup extension. The latter helps you to convince your visitors to turn off the AdBlocker so as they can see the ads on your page.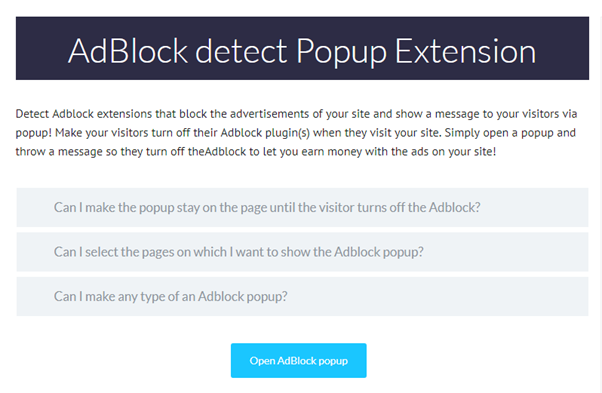 Analytics
And finally, the analytic extension helps you to evaluate how your popups behave themselves and furthermore, make their performance even better.
Additional options
Now, when we have already introduced the types of popups to you, let's pass on to the settings. The proper configuration of popup settings will help you make your popups as polite as possible. To get better insight, let's have a look at the following screenshot.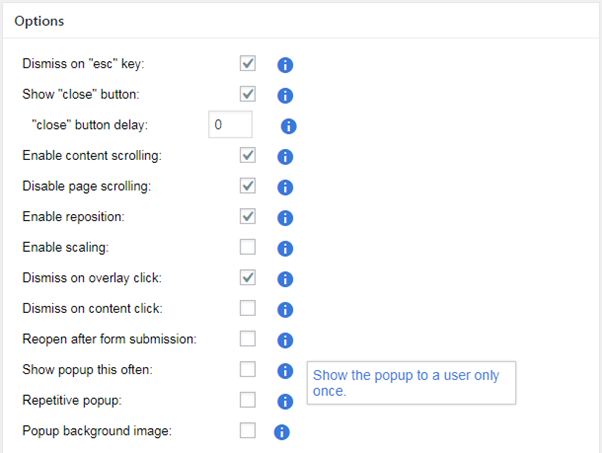 As you can see, whether you wish to make the popup an aggressive or a soft and polite one, this is all quite possible. It depends on what actions you will check in the options section. Correspondingly, by disabling some actions, you make an aggressive popup. For example, if you check the "disable page scrolling" option, your visitors will not be able to scroll down the page when the popup is open. In contrast, you will make a soft popup if you check the show "close" button section. This means that your popup will have a close button. It follows that the website visitors can close the popup in casethe offer doesn't arise interest in them. Likewise, if you would like the popup on your site to appear only once during the session, then choose the "show the popup to a user only once" option. Once closed, the popup won't appear in front of your site visitors anymore during the session.
In conclusion
If you make a survey by asking people if they like this method of advertising, most of them will say that they don't. But we are also sure, that all or almost all of them will not have a proper insight into the essence of popups. To put it in another way, they just say "these annoying ads". But the truth is that they don't know that whether a popup is soft or annoying solely depends on what settings they will give to it. Thus, through this article, we tried to break the stereotypes about popups. By the way, if the topic interests you, follow the updates on our blog page. We are going to elaborate this further. With that said, we strive to give more detailed and professional analysis in relation to the configuration of soft and aggressive popup settings.