Blog
8 Ways to Build a Stronger Brand Image Online
There are many aspects to consider if you want to build and maintain a positive brand image online. First, it comes down to having an attractive website so that you can realize the other steps. So, let's start with discussing this point and then go down to the other strategies.
1. Maintain a Visually Appealing Website
If you want to ensure the online presence of your business, you should primarily think of launching a visually appealing and functional website. The advanced technologies enable us to create a charming website using different platforms like WordPress, Magento, Drupal, etc. having no coding knowledge at all. This is realized through various plugins that give multiple options to improve the look and to increase the functionality of a website. 
2. Keep a Current Blog
If you wish to keep your site updated with valuable and unique content about your product or service, consider the idea of creating a blog. Before realizing this idea, nurture it in your mind so that you know how to make the content most informative and attractive. Here, you have two tasks to solve: to give valuable information and to attract visitors through the content. Also, don't forget about the titles: the latter should be attractive, yet should never lie about the content.
3. Be Active on the Social Media
Before starting the social promotion, you should create a business page on the social networks where your targeted audience spends most of their time. Then, try to raise the number of your page likes and followers. Anyway, do it naturally so that you are not treated as a spammer. When it comes to sharing materials, you should consider where to share them. Share content in groups that are in the same niche. Some social sites have strict anti-spam rules, so you would rather be careful about the frequency of sharing. To avoid getting blocked as a spammer, apply a trick that will make the visitors do the job for you. With this aim, you need to make a social popup thus enabling the social sharing by your visitors.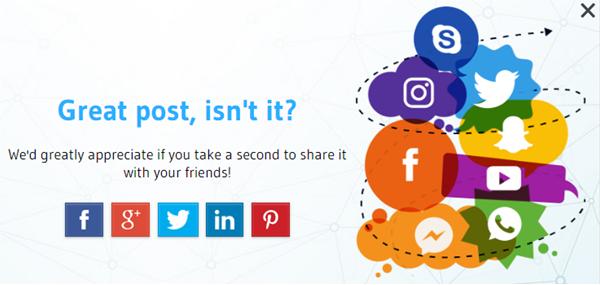 4. Enable Customer Reviews
Although it might seem intimidating at first glance, via encouraging customer reviews you will yield fruitful results for your business. Just enable them on your website through a review builder plugin. You shouldn't be disappointed if you get negative reviews, because it's not possible to please everyone. Instead, you should think of the reasons that caused customers' disapproval and work on mistakes.
5. Have a Proactive and Friendly Customer Service
Be sure to address customers' complaints and negative reviews in a productive way. This means that you should be friendly even when customers are stuck in dissatisfaction. Try to respond to customers' messages as fast as possible. Solve the problems they are facing and once the issue is clarified, ask for a positive review. What's more, to make customer service more engaging you can make use of a live chat service. Besides, you can use VoIP systems to deliver superb customer service.
6. Combine Online and Traditional Marketing
To build a stronger brand image you need to think of combining online and traditional marketing strategies. This way, you will be able to engage a portion of the online and offline audiences. For example, mention your store on your website and include store location, logo and other essential information on your site. Similarly, always take care to mention your site on your leaflets, posters and on other advertising materials.
7. 
Run effective email marketing campaigns
Email marketing will stand out as one of the most successful strategies if applied correctly. To make email marketing operations a success, first you should expand the database of targeted subscribers. Invite visitors to subscribe to your newsletter through an engaging subscription popup. Once you have collected enough submissions, start handing out attractive offers through email. Also, don't forget to include a catchy subject line so as to attract the attention of subscribers and to ensure high open rate for your emails.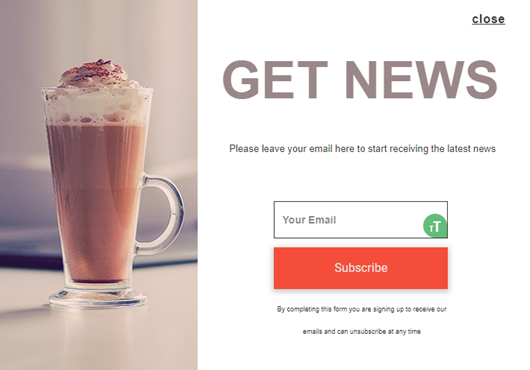 8. Show a polite attitude when using popups
Popups are becoming extremely popular among the online strategies aimed to attract attention. However, you should keep in mind that only the correct use of popups will meet your expectations and boost conversions. Want to know more about creating polite and unaggressive popups? Feel free to check out our informative article on this subject.