Blog
Using AI for Pop-up Creation: Conversations to Conversions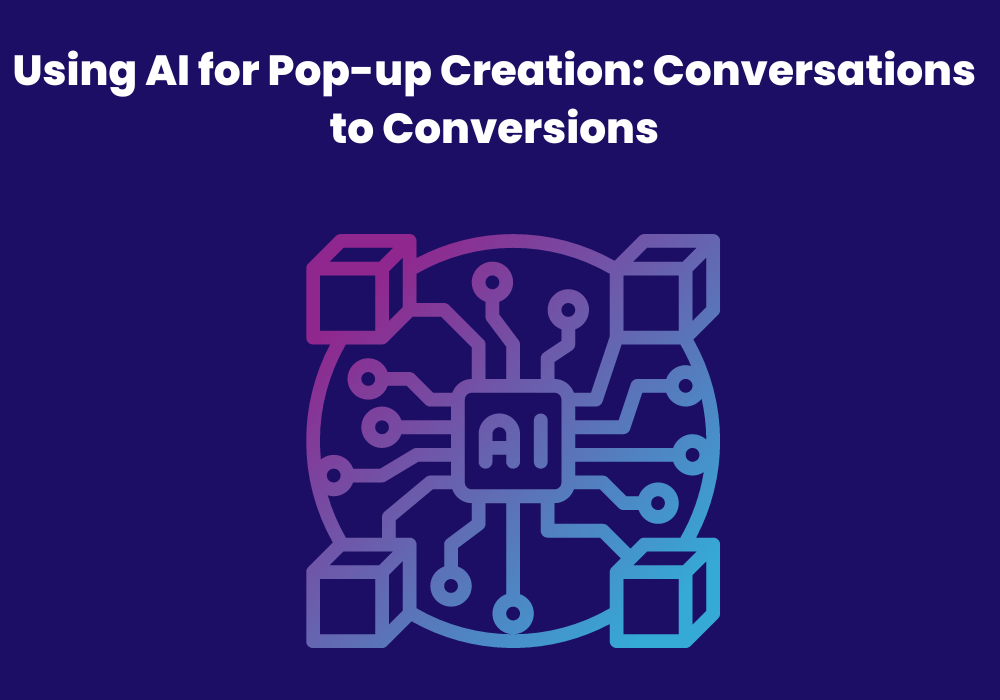 While people argue over the pros and cons of empowering AI and thinking about whether it's worth it, technologies walk confidently into almost all areas and make people's work easier. So, this article looks at the main points where AI can be helpful for digital marketers to level up the use of pop-ups while also helping them to meet their business and marketing objectives.
Pop-ups are More than Notifications
To go deeper into making better-performed pop-ups, we should start from the beginning. So, let's see what a pop-up is in general. A pop-up ad is a window that appears over the page you're currently visiting. A pop-up ad's goal is to stimulate a response from the visitor. Buying something, subscribing to a newsletter, enrolling in a course, attending a webinar, or any other action you want users to take on your website could be the expected action.
When certain events happen on the website, pop-ups may appear, for example, when you first visit a page or when you are about to leave it.
The endless scroll can sometimes leave users feeling as if they aren't getting what they expected, making them want to leave. A scroll pop-up at the appropriate point down the page can re-engage the user, assisting them in staying on track with their primary reason for visiting your site. So, pop-ups can boost your conversions in the long run without increasing your bounce rate or driving away too many visitors. 
What Makes a Pop-up Great? Does Yours Hit the Mark?
Your pop-ups don't have to be overly complicated. Neither do you require an absurd offer. There are many "rules" on how to create a great pop-up that converts. However, these best practices don't necessarily work for all companies and all segments. Most of the knowledge and actionable practices arise from experience and social learning. Here are some of the keys to creating great pop-ups that we learned: 
Timing 
The lowest converting ads appear within the first 4 seconds of a visitor's arrival on a website. Don't you despise it when you walk into a store, and a salesperson rushes over to ask if you need assistance? Allow the person to look through what you have before asking if they want anything.
Context
There is no way to take you to the winning path without context. Would you ask a first-time website visitor to sign up for your newsletter as soon as they arrive? Obviously not. They have no idea what you're offering at that point, so you must deliver the appropriate pop-ups to the right person. 
Value
You must add value to whatever you are already doing. If you sell services and someone looks at them on your website, you give them a free consultation to attract them to return. Finding out why people leave before buying is the best way to add value. 
How Can AI be Used in Pop-up Creation
To make everything work precisely and save your time on the manual job that can be done automatically, AI comes to help. Discovering how AI can benefit pop-up creation is on our today's plate.
Personalized Pop-up Advertisement
AI will help personalize pop-up advertisements and make offers based on user behavior. Today AI can make pop-ups highly targeted, contextual, well-timed, and strategized, allowing marketers to reach their ad goals. 
AI advertising, or personalized AI advertising, contributes to higher conversion rates, just like any other marketing campaign goal. 
They help determine what type of product a client will likely buy or what message will positively impact. As a result, you will know where to concentrate your efforts.
In addition, it is impossible to overlook another nuance that AI can make achievable. Through object detection. AI can analyze images viewed by a visitor, first classifying them and then detecting and classifying the objects in the images. In eCommerce stores, AI is frequently used to improve product recommendations based on customer activity. Going a step further and suggesting products based on objects viewed in video content by a customer will take your business to another level.
AI can recognize clothing, furniture, gadgets, and almost any other object and display similar products from your online store based on what your customer has just seen, offering them perfect pop-ups.
Contextually Relevant Pop-ups 
Another great benefit is to use of AI to create contextually relevant pop-ups that change based on the website or app's content or context. Pop-ups mixed with AI are a powerful tool that can collect marketing data while asking questions about your customers and making recommendations in the same flow. 
So contextually targetting your customers is another great way that AI can help businesses to achieve their goals through one of the most underrated marketing techniques, pop-ups. 
Dynamic Pop-ups 
AI can create dynamic pop-ups based on real-time data such as the weather or time of day. Marketers will agree that it is more than enough to make winning pop-ups. 
You can show visitors tailored content and message based on their location, whether a specific city, country, region/state or continent. Some of the most common uses of this are to show free shipping offers on exit pop-ups only to visitors in states where distribution centers are located, to reduce the costs of special offers, and to show state-specific content to visitors. 
Final Words
AI has the potential to revolutionize the ad industry and how marketing is conducted by helping to target ads more accurately and efficiently. By working closely with AI, marketers will get many benefits that would be really hard and time-consuming without it. So, to wrap up quickly, here are all that AI gift: targeted traffic by focusing the efforts on specific behaviors and demographics, a personalized approach based on customer interests, with each consumer receiving an appropriate and timely marketing message, improved customer engagement generating interactions with customers by anticipating their wants and needs, all these leading to increased profits and sales. Conversion rates and sales figures rise as ads become more precisely targeted, tailored, and timed to correspond with the exact moment your customer is about to make a purchase.