Blog
Get Targeted Subscribers Using Ninja Forms WordPress Plugin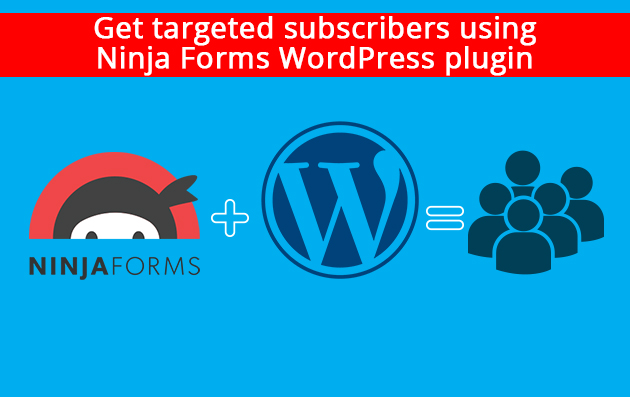 One of the key counterparts in traditional, as well as in online marketing is targeting. Targeting is like acting with a purpose versus acting spontaneously. To be sure, adhering to the goal has always given better results. So, it's much better to plan everything beforehand by targeting your plausible customers according to different criteria. Thus, marketers use many different factors when grouping potential customers. These factors include classification based on demographic, geographic, psychographic, behavioral aspects. And these targeting criteria are actual on the online platform as well. There are many online tools used to classify plausible customers.
How to Target Your Audience
In the scope of this article, we want to inform you that you can target your audience.  You can do it using Ninja Forms WordPress plugin along with the shortcode popup.
Let's dive deeper to see what fields can be integrated into the form and what steps you need to take to get the final look.  
Thus, the first thing you will need to do is to install the Ninja Forms plugin to your WordPress. Afterwards, add a new blank form. Here, you can choose from many sections. Especially noteworthy is the fact that you have an opportunity to select a custom field to ask for any information. So, consider the above-mentioned segmentation aspects to add relevant fields in case of necessity. Well, let's have a look at the following screenshot: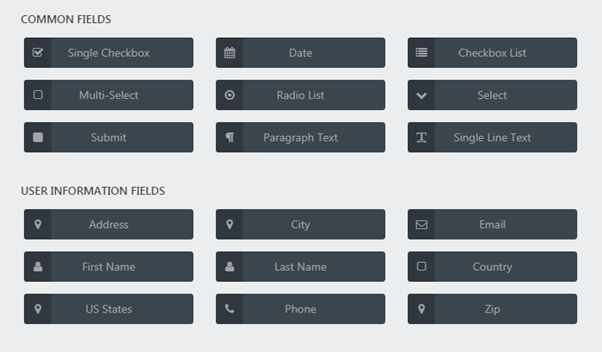 Outsource personal info to target your subscribers
As you can see, you can classify subscribers by their full name, geographical data like country, the city where they live or work. In addition, some kind of information might be outsourced from the email addresses. Moreover, if you need to find out the age of your subscribers you could ask for the year of birth, as well as birthday in the date section. Collecting these data will give you an opportunity to come up with exclusive offers on your subscribers' birthdays.
Ask for additional information 
Especially notable is the fact that you can ask for any kind of information by changing label titles. Just figure out the things you need to know about your plausible customers so as to be more successful in your marketing endeavors. You may wish to classify your subscribers according to their profession, job position, interests or family status. All of these are real and can be achieved through making a special form with the Ninja Forms WordPress plugin. Now, let's have a look at a practical Ninja form for targeting subscribers according to their age, place of residence or interests.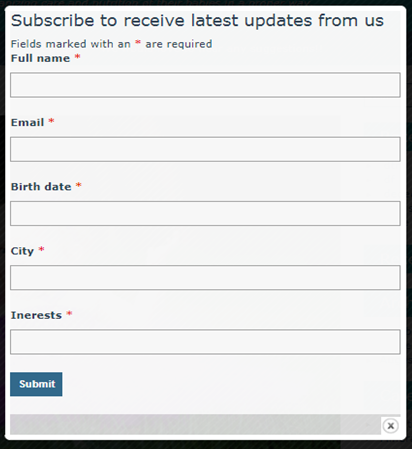 As you can see, you can find out a lot about your subscribers. Just choose relevant fields and add other fields at your discretion. When you have already made the form, you can take its shortcode and put it within a shortcode popup. So, what is a shortcode popup? When you use different plugins to develop your WordPress website, you can take the shortcode these plugins give you after you create something and then you can place it within a shortcode popup.

Popup ads tend to attract more attention so configuring the proper settings you will get a polite shortcode popup with custom fields to be filled in and asking your site visitors to subscribe. Thus, copy the shortcode of the form you have made from Ninja forms plugin dashboard and paste it into the relevant section of your popup. This way, you can make your marketing operations more effective by targeting your subscribers.
To Sum Up
If you want to run more successful and effective marketing operations, targeting should be the core component in implementing them. So, you should consider the offers you make based on the age, gender, interests, profession, place of residence, family and social status etc. of your plausible customers. Segmenting your audience will help you run accurate and precise advertising campaigns making your work more productive and your efforts more rewardable.  And as you already know, there are a lot of online marketing tools used for targeting plausible customers. Оne of them is Ninja forms WordPress plugin. The latter gives an opportunity to make a form by choosing relevant fields and add custom ones depending on the segmentation criteria you would like to consider.
Finally
Making the form appear in a popup window will capture more attention. As a result, more subscribers will give their emails and other data to receive useful updates from your website. Afterwards, you will target your subscribers according to the data received from them. In a short while, you will reap the benefits of your diligent work as targeting has to do with the more purposeful organization of work which always gives fruitful results.