Blog
Meet The Ultimate Popup Builder For WordPress

After spending a lot of time and exertion on creating your own web page, you need to develop it, presenting it to your visitors in original, appealing and particular way. For all website owners it is well known that the content of the websites differs both in their contents and the outside form. So after creating your website's content, you need to think about the attractiveness of yours website as well.
For this matter your website's inseparable part will become various stunning types of popups that provides Popup Builder plugin for WordPress. Popups will support you in order to develop your site, making it more productive and viable. Apart from being a good way for adding to your website some advertisement, popups are an excellent marketing tools. With the help of our plugin you will easily draw your visitor's attention, inserting additional pages, videos, images, shortcodes, etc, to your web page.
Main features
Using our plugin's popups and filling them with any content you want, you have a lucky chance to insert them into various pages according to your need. And all this process is pretty easy and will take only 5 minutes. So in order to create any type of popup you don't need to be a computer geek.
There are a great number of valuable and appealing features, that will interest you and you need to get acquainted first of all.  
The simple way of using is one of the most important features of our plugin, so

it isn't necessary to be an expert in creating websites

The plugin secures you with a freedom to create countless popups

Our plugin's popups allow you to choose the repetitiveness of their appearance according to your need. So, according to your wish, the popup can appear on the same page for several times

There are no difficulties during the installation, as it is quite easy and takes only a few seconds and clicks

The popups are pretty affordable, so there is no need to worry about the prices

Due to the excellent design of pixel, the plugin is adaptive for all devices. So it is

no matter what device are using your visitors while visiting your site, they will not have any problem

You will be offered a number of alluring themes when creating popups for your web page. You can also choose in what effect a popup appears: shaking, flipping, bouncing and so on.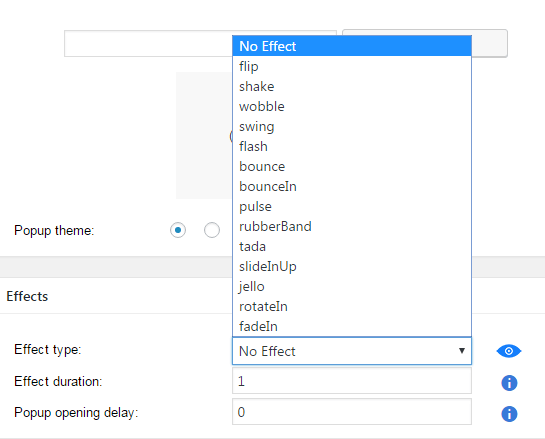 Our plugin empowers you to give your desired color to the overlay and background, as well as change the  location and  size of the popup.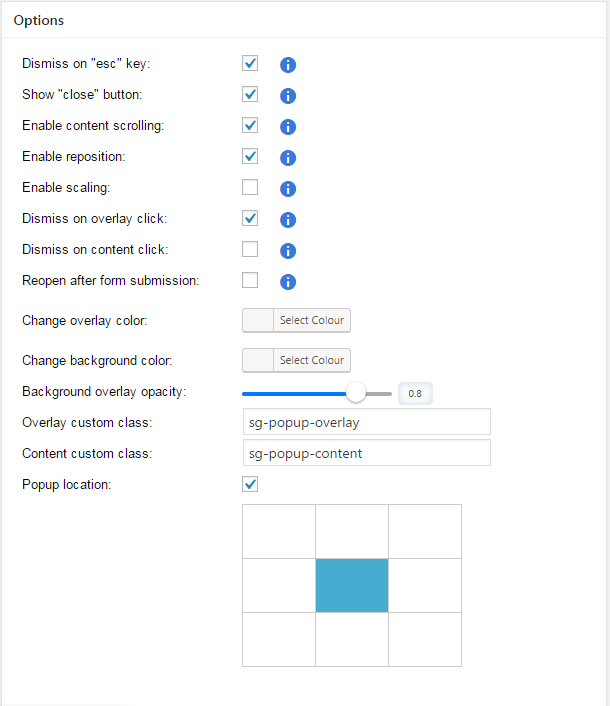 Some of the popups open spontaneously, featuring as the best way to blow the attention of your site guests

Our team is so supportive to help you. We'll always respond to your questions and will help you to get just what you need. So in case of any problem while using the plugin, do not hesitate to write us.
Types of Popups
Now, when all main features are mentioned, let's become aware of the amazing number of popups, which proffers our Popup Builder plugin. Among the pop-ups you can select the most convenient one for your web page. Each popup has its variety of options, so you can do various kind of changes in each popup. Taking in mind that both the look and the content of popups are essential, our plugin grants you the possibility of modifying the effects, timing, positions, as well as sizes and colors of the popup according to your taste and your need.
Our plugin enables you to create good-looking popups with Images, HTML codes, Facebook's links, Shortcodes, Iframes, Videos, Socials, Subscriptions and so on. Every mentioned popup is supplied with differing options in order to give an opportunity to our plugin users to feature the preferred popup on their page and to their taste as well.
One of the engaging types of popups is Image Popup. This type is proper for those page owners, who want to blow the attention of the users through various images. For creating popup with an image, there is no need to be an expert. You just need to give a title to the popup, select an image, and play with the rest of options, such as change themes, dimensions, types of effects with their duration, the location of popup, etc. All the listed options are General, as all popups types are provided with them.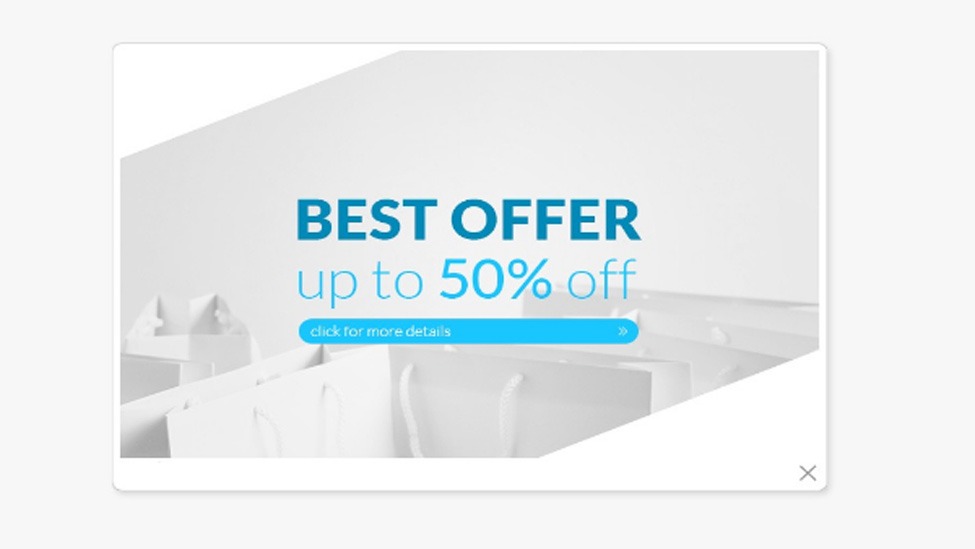 This type of popup gives also a chance to make changes in Advanced Options sector. Here popup builders can choose when show the popup, when scrolling or after activity, close the popup automatically or not, etc.
In case if you want to expose an extra HTML code in your site, the Popup HTML  is just for you. You can add to your popup various HTML codes according to your necessity. You just need to write anything you want in the field designed for texts, as well as make a choice among offered themes and effects. Then, after saving changes, you just need to pass to the space of Pages and select your popup on page load.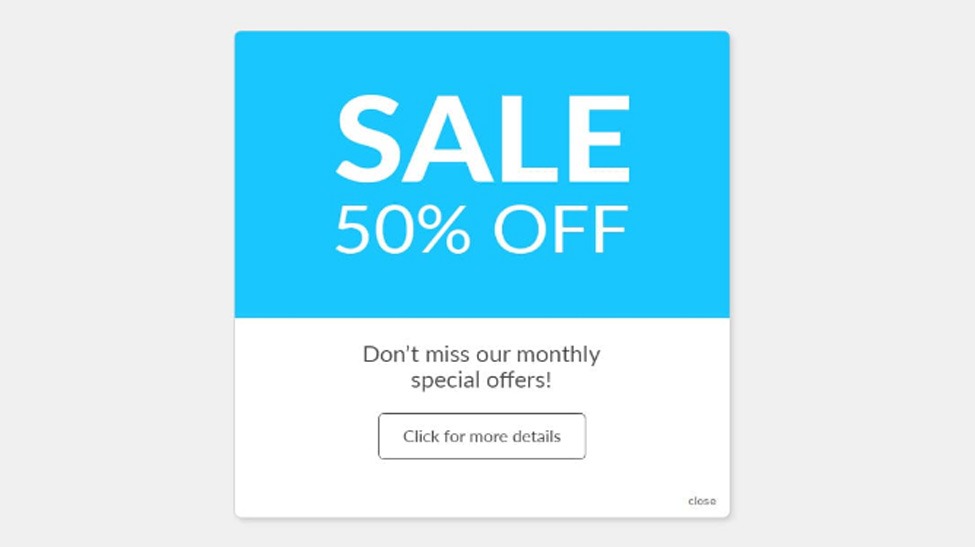 The next attractive popup is Video Popup. This is an excellent way to display any kind of videos through the popup. For this you just need to copy and paste the video link to the required field for URL. And then you just have to change the general options if you want.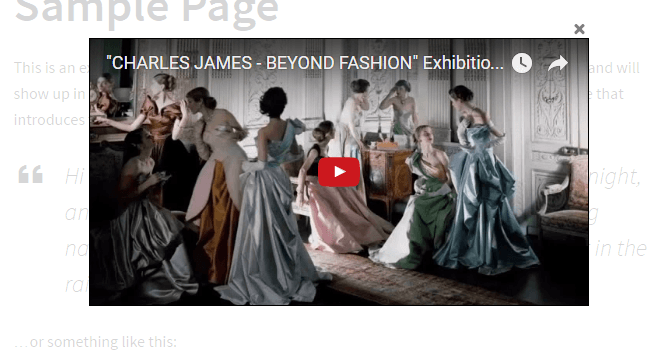 Those site owners, who want to be closer to their visitors and make it easier to contact with them, our plugin has prepared for them Contact Popup. Choosing this pop-up, your page guests can communicate with you writing messages through the popup. You can choose what boxes the visitors fill. In the area of options you are given a chance to change the boxes texts, sizes, colors and so on.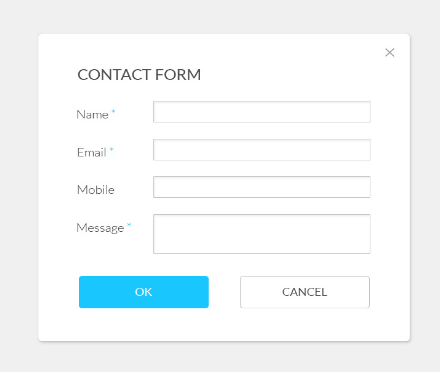 The next creative popup, which offers you our plugin, is Social Popup, that helps you to share your site over socials, making it more famous and more public. There are all well-known socials, such as  Facebook, Twitter, Google Plus, Linkedin, Email, Pinterest, etc. In order to create this popup, you just need to choose what share buttons you want and add the needed pages URLs that you want to be shared. Than you can change the button's configuration, making them appear in various themes and sizes.
In case if you want to keep away your page from some age audiences  in order to refrain from unsuitable content on your site, the Restriction Popup is just for you. This unique type of pop-up will help you to choose an age restriction and the users will have to be approved for having access to your website. Choosing this popup, you need to write anything you want in the required field for text, choose two buttons for the users answer, for example "yes" or "no", and play with their general options.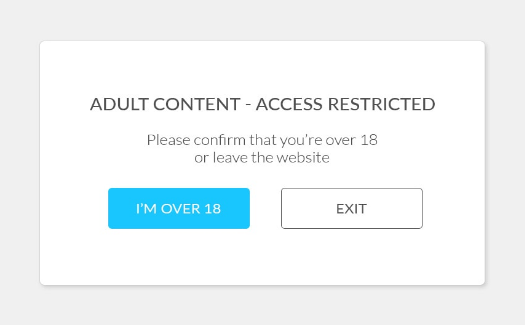 Those, who have an online shop or eCommerce site, and have limited offers for their consumers, our plugin offers them the CountDown Popup. This popup will demonstrate the purported date of offers expiring. As in other pop ups, here you will also have a special box for the text. After writing the text, you will have to select the date, hour, minute and second of the date. After which you can pass to the general options, giving attractive design to your popup.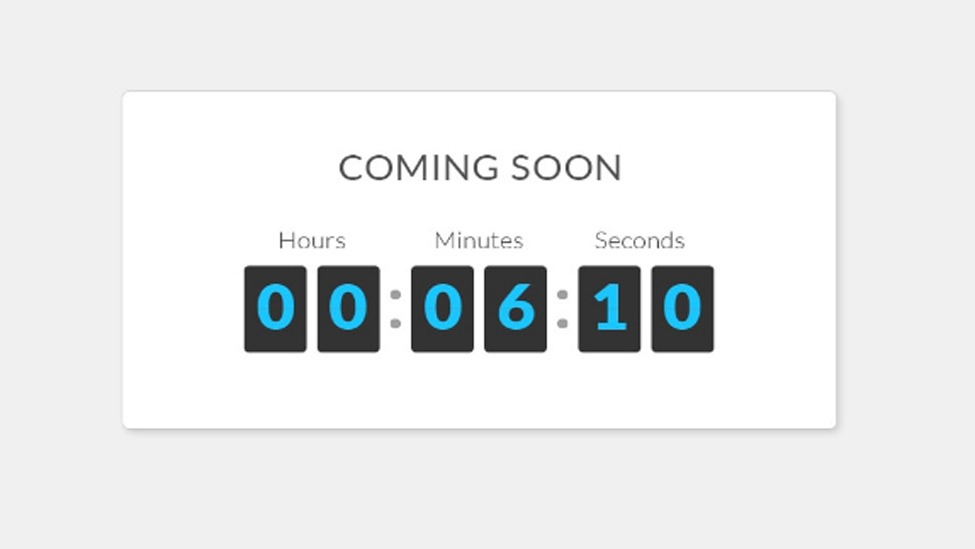 Don't forget our plugin's Facebook Popup, which is the best solution to share some additional content on your page  making it good-looking. After filling the box of the text, you just need to add a URL of any page that you want to share, and after changing some options, create your Facebook popup.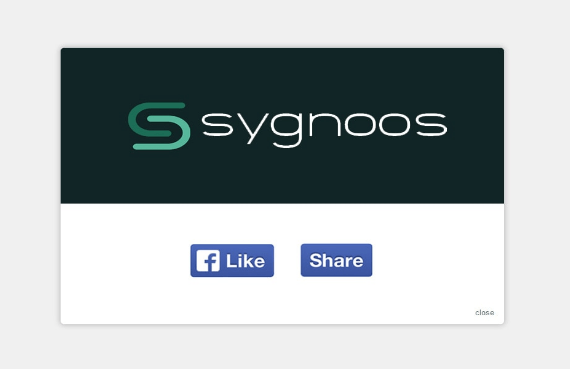 All the mentioned popups that provides our plugin, are successful instruments for making your websites more viable, more social and inviting. If you have decided to fill your own page with individual popups, it is crucial that the latters will be well-designed. So our plugin provides you such popups with the most easy way to create.
Thank you for your attention. We hope that our research will help you easily create your unique popups. In case of any question you can contact the Popup Builder team and we will be ready to support you.