Blog
Why You Should Incorporate UGC In The Email Campaign?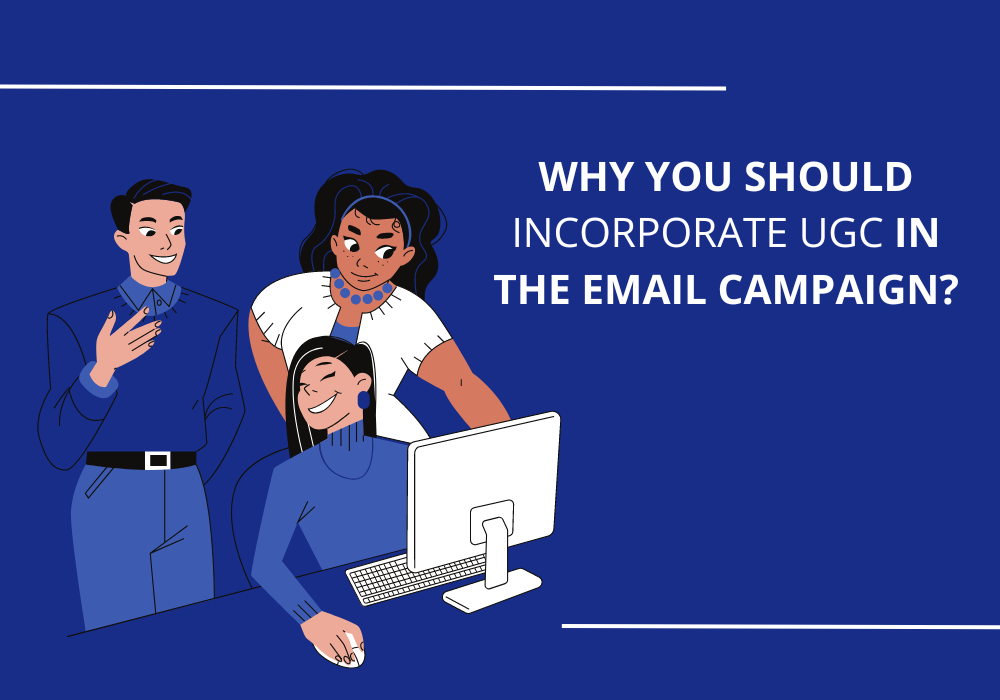 Do you ever think about making more out of your email marketing campaigns? Well, everyone does! Everyone loves social media around here, but there is no denying that emails are powerful and an important factor in conversions. The last remaining relic of old-school marketing is email marketing. It has been a contributing factor in your marketing efforts for a long time and is a good source of lead generation, capturing potential prospects, and monetizing subscribers. 
Brands roll out thousands of emails to update their users about offers, newsletters, ads, and much more every day. In addition to the high ROI that brands get from emails, they are capable of generating $36-42 for every $1 spent. 
To adjust to the growing landscape of the digital world, brands keep coming up with new and innovative ways to level up their email marketing game. Leveraging UGC, user-generated content is one of the best ways to increase conversions, build trust, and paint posts with a personal touch. 
The main types of UGC that can be leveraged in your email marketing are: 
Reviews and testimonials people have written on any public platform 

Blog posts 

Images and videos 

Polls and surveys 

Unique hashtags for the brand 

Case studies and success stories 
Why only UGC? 
Now the question arises, why are we focussing on UGC only? This is because UGC is cost-effective, promotes credibility, delivers a positive impact on purchase decisions, humanizes a brand, and drives conversion rates. 
UGC ads lead to a 50% decrease in the cost-per-click compared to the average cost of ads. Moreover, it is content created by your current customers which do not require you to spend a penny. Apart from this, people do not believe in over-the-top, picture-perfect ads, instead, they trust current customer and their experience. 
More than 60% of customers read reviews before they make a decision. Also, people spend 5 hours engaging with UGC daily. With UGC you get to personalize your content and generate 50% more open rates on emails. 
Now let's take advantage of this concept and win over our users with perfect email campaigns including UGC. 
Implementing UGC in your email campaigns
Let's see some techniques to use UGC in your email campaigns and what benefits it brings to your band. 
Adds a personal touch to your emails 
Starting with the basics, you need to accumulate UGC using review platforms like Taggbox. Simply ask your users to contribute more UGC. Using review platforms you get several templates to choose from, let them know what kind of content you need, send them satisfaction surveys, and further personalize your emails. 
 Add UGC to inspire your users 
Instead of sending out endless product descriptions, newsletters, and offers, replace them with UGC to revolutionize your content marketing and add a human touch to inspire your audience. If you can get your most loyal audience to share video testimonials, it can be another brilliant way to convince your users and improve your conversion rates. 
Use photos to show social proof 
Offers, newsletters, and other promotional content more often than not lack visual diversity. This obstacle can be solved using UGC in your emails. Use photos as they are more believable and portray proof of your existence. Visual UGC is more encouraging and effective. Ensure that you get all the required UGC rights before featuring their visuals in your emails. 
Spark abandoned carts 
  Cart abandonment is a pressing issue for brands all around the world. It affects pretty much every industry. Including UGC gives them an extra nudge to finalize their purchase. You can add a CTA, feature personalized UGC images, and add a suitable offer or discount on the next purchase. This is the type of incentive that motivates them to finalize a purchase they might have forgotten about. 
Run a contest to build strong relationships 
By running a contest you can kill two birds with one stone. Engage your customers while encouraging them to generate more UGC. A contest is a type of interactive communication between customers and the brand. They can boost conversion and improve order value as well. 
Popularize a unique hashtag to boost visibility 
A hashtag aces it all when it comes to marketing. It makes your brand more reachable, and visible and engages your followers. Hashtags can be the key to integrating email marketing with other promotional content. Popularize the hashtag and hence generated UGC in your emails to make an announcement, boost engagement, awaken curiosity, and stand out from the crowd. 
Conclusion
UGC is surely great but you need to be selective with the type of UGC you include in the emails. Not every piece of content will do the job, you cannot risk losing quality and overloading your audience with content. 
Customers need to see identity and relying only on UGC will not do the trick. Instead of blindly incorporating UGC, make sure you only roll out high-quality content, showcase UGC that aligns with your vision, and ensure you do not share offensive or controversial content. 
Filter your content and display valuable information to reap better results.