Blog
Top 8 Types of Popups to Boost your Sales for St. Valentine's Day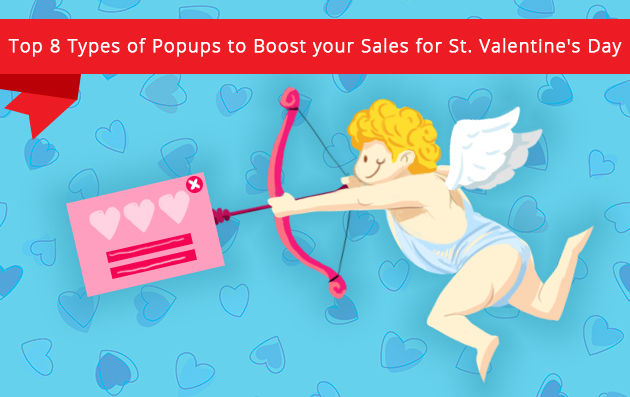 Just like every other holiday, St. Valentine's day takes us back to its origin. There are a few legends pertaining to this holiday with different interpretations.
Before passing on to today's celebrations and the advantages it brings to business owners, let's go back and explore the romantic origins of this holiday.
Actually, St. Valentine's day was not that romantic before. Thanks to Geoffrey Chaucer, who wrote the poems "Parliament of Foules" and "The complaint of Mars" in the 14th century where St. Valentine's day was first linked to romantic love. There are a few legends getting us back to the origins of this beautiful holiday. Let's explore the most romantic ones:
According to one of those legends, St. Valentine was a priest who stealthily married soldiers who were banned to marry by emperor Claudius II. It is supposed that the emperor contended single soldiers to be better warriors. And St. Valentine was thrown into prison for defying him. According to another legend, St. Valentine helped prisoners escape harsh prisons where they were tortured severely. When he was confined,  he fell in love with his jailer's daughter and started sending her cards with a note "From your Valentine".
Though we are not sure about the exact origin of this beautiful day, we have clear evidence that formal valentine messages appeared in the 16th century and by the late 18th century printed cards were being applied commercially. The cards basically portray Cupid – the god of love in the Roman theology.
         Now, let's get back to the 21st century and the excitement this holiday brings about everywhere.
Yes, there is much excitement on the 14th of February. The young are mostly excited due to the feeling of affection. But the excitement is not only about that. The holiday also arises excitement in business owners who think of all of the marketing strategies out there to spread the word about their product or services and to increase their revenue. It doesn't make any difference whether your business is online or a traditional brick and mortar store, you always need to have a website and to ensure its online presence. One of the online marketing strategies that will help to increase your sales for St. Valentine's day is the use of popups. These small windows really help to attract attention and to convince site visitors to take an action.
Thus, considering the power popups possess in boosting sales, Popup Builder would like to surprise its customers with unprecedented sales' offers before St. Valentine's day. You can buy our plugin at discounted prices before the day of the celebrations so that you have time to promote your offers. Just visit our webpages to get the coupon code.  
 Thus, let's get familiarized with the popup types and recommendations that would help you to make most out of this efficient online marketing strategy.
 1. Subscription popup
 You can make a subscription popup to increase the number of your subscribers for the upcoming St. Valentine's day. Just create the popup and place it on your landing page (or any other pages and posts) before the celebrations. This is a compact window that offers website visitors to subscribe to your newsletter. For online marketing purposes, it is recommended to place this popup far before the celebrations. The reason for this is that you will need some time in order to collect the subscribers and to start dispatching email messages to your plausible customers, i.e. running email marketing campaigns.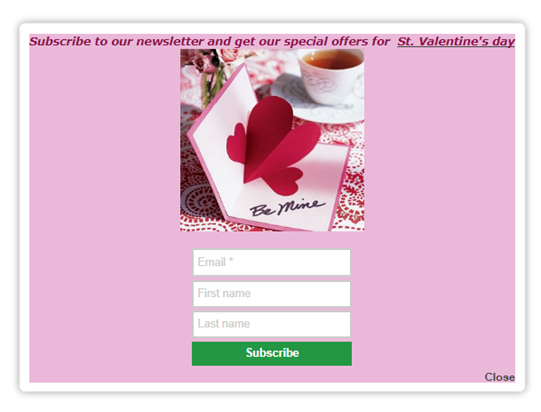 2. Social popup
 The desire to socialize on St. Valentine's day is one of the key points to consider when choosing the type of a popup to apply on your site. A beautifully crafted social popup would be just to the point. This way, you give a chance to your website visitors to share your page on their socials and spread the word about your products or services. You only need to think about making an eye-catching popup and adding it to your site. The rest of "the job" will be performed by your site visitors actively sharing your offer.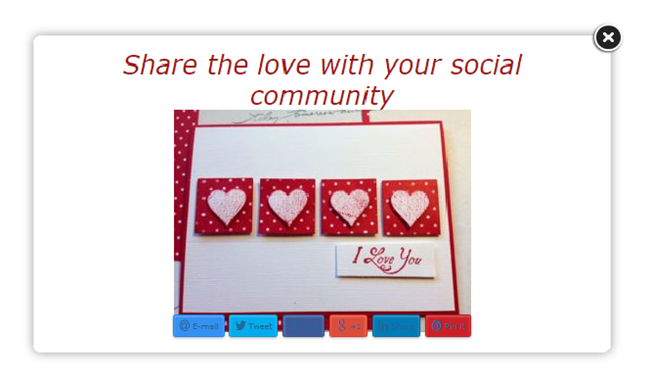 3. Facebook popup
 Another popup that enables social sharing is Facebook popup. Unlike Social popup which comes up only with share buttons, a Facebook popup comes up with both like & share buttons. Apparently, it only allows social sharing on Facebook.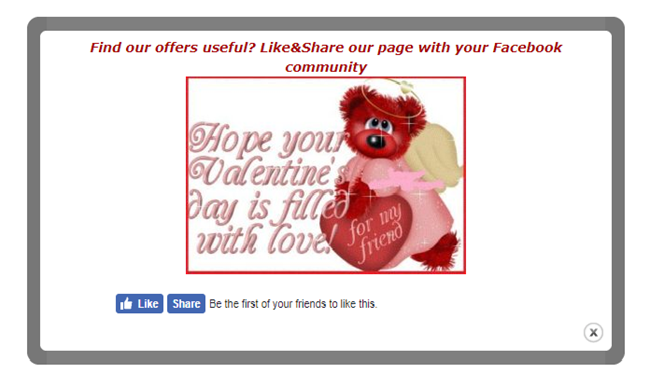 4. Image popup
 Image popup is an amazing solution to design your own image where you can integrate both a beautiful and eye-catching picture and a persuasive text message. Let's have a look at a sample image popup: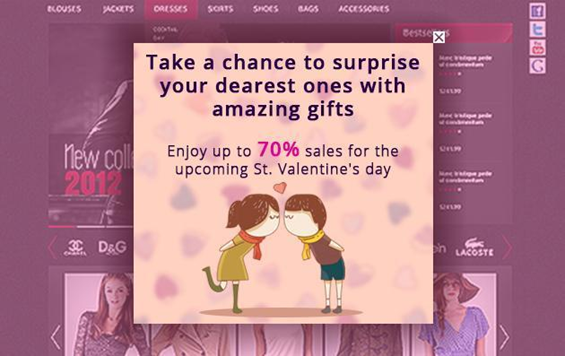 You can also configure the settings so as when clicking on popup content, your visitors are redirected to the page where your sales' offers are presented. Just check the "Dismiss on content click" option and you will meet the "close popup" and "redirect" suboptions. When your site visitors click on popup content, your popup will either close or lead your visitors to another page depending on the settings you will have given to your popup. Then, when you check the "redirect" option there will come up a space for writing down the URL that is going "to welcome" your visitors. You can check "redirect to new tab" option for the convenience of navigation. In this case, when clicking on your popup content, the target page will open in a new tab.

5. Countdown popup
 This is an amazing popup to announce holiday sales ending. The popup window comes up with decreasing numbers created to excite a sense of urgency. Thus, when your website visitors see that discount offers are about to end, they will do their best to get them. In addition, you can also "dress up" your popups with lovely Valentine decorations – hearts, flowers, Cupids with arrows, etc.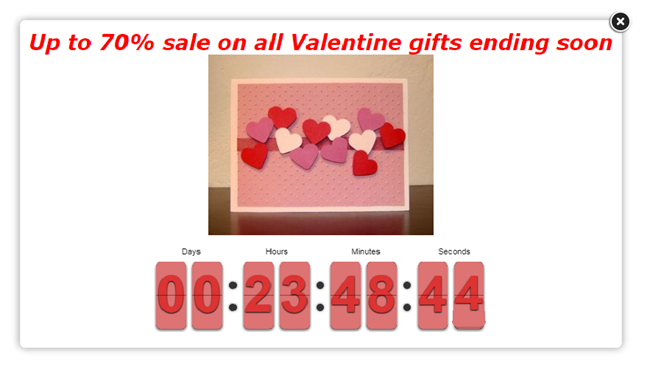 6. Video popup
 It's possible to integrate a video in any popup where the editor with "insert media" option is available on the left. However, it is preferable to use video popup for this purpose as the latter comes up with more pliable and versatile options. This is an engaging marketing strategy through which you can show a video in a compact popup window. If you make a beautiful and eye-catching video popup, you will be sure to attract attention on Valentine's day.  The one presented below is not just a YouTube video, but a video popup with a close button on the right corner below.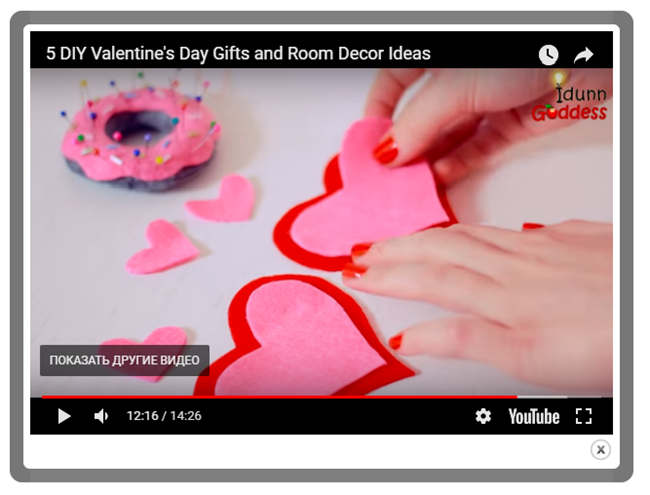 7. AdBlock popup
 This type of popup is useful if you would like to make your ads available to your visitors. The matter is that web users often apply adblocking software to avoid seeing ads. Including an AdBlock popup on your website you get a chance to detect the application of an adblocking software by a web user. Then, you can politely and exquisitely ask your site visitors to turn off any adblocking software so that they can see the beneficial offers on your  website – the ones that are available through advertisements.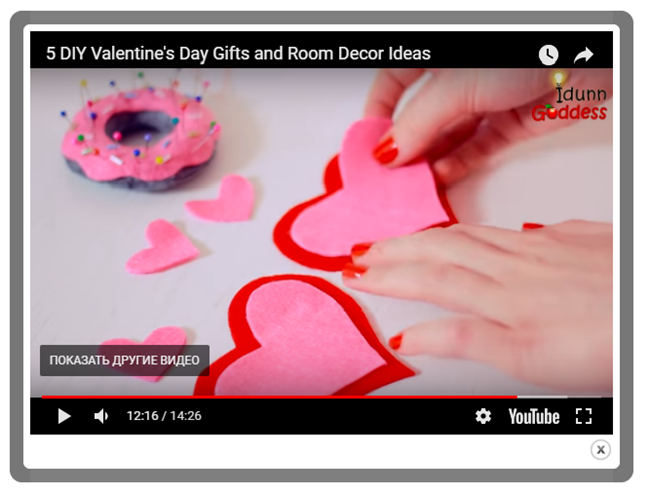 8.Exit-intent extension
The exit-intent extension also comes up to fulfill the arsenal of your popup tools. The idea of this extension consists in its potential to be added to any popup. As a result, the popup appears just in time your site visitors move their mouse to close the "x" button and try to leave your website. As an example, you can come up with beneficial offers like discounts to convince your visitors to stay on your website and to make a conversion.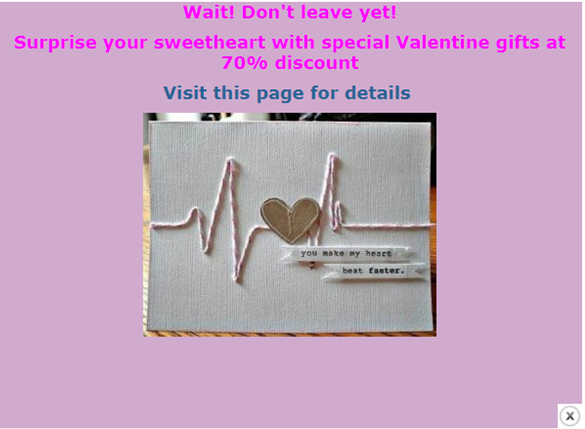 Additional notes
Introduction to different popup types doesn't suppose the use of all of them on your website. Just choose one or two of those you think would bring you more conversions. Thus, the key to success is in avoiding to stuff your website with popups at the same time choosing those that can best suit your online marketing goals.
In Conclusion
 As you may already know as an online business owner, holidays are perfect occasions for you to start actively promoting your offers and increase your sales. Today, one of the most effective online marketing strategies is the use of popups that are irreplaceable for attracting attention. In the scope of this article, we tried to introduce you to the peculiarities of each popup type we consider effective for applying on your site before the-so-mysterious and romantic St. Valentine's day.
Also, pay attention to our special sales' offers that are available far before the actual holidays so that you have time to fix them comfortably on your website.