Blog
On-demand Business Model: Exploring Market and Big Names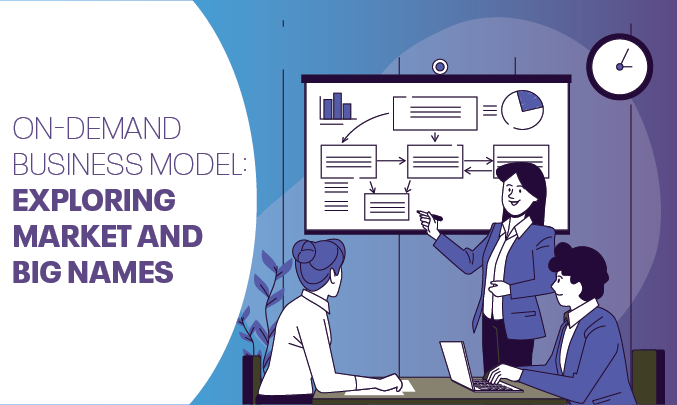 On-demand apps have changed how businesses sell their products and services to their ideal customers. However, it has made it easier for customers to get almost everything right at their doorsteps. They can get a taxi, service providers, food, and other day-to-day essentials with a few simple taps on their smart device; this became possible due to outstanding business models. 
Harvard Business Review shows that the on-demand business is growing and not just for the immature and affluent. It attracts approximately 22.4 million consumers annually. They are expected to spend around $57.6 billion on one or other on-demand services. One of the most spending categories is the marketplace, which is followed by transportation, food, and grocery delivery. 
The main goal of this model is to provide a platform for businesses to get connected with their targeted audience and cater to their growing demand more efficiently. According to Brookings.edu, different sharing economy segments will generate more than 50% of revenue by 2025.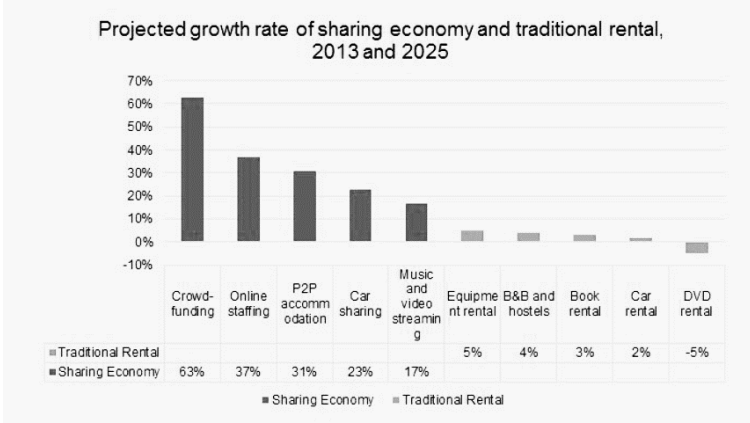 Image: (Source)
Looking at the significant success of on-demand players like UberEats, Lyft, and others, many businesses are interested in their business model. If you're one of them, this article can help you have a deep understanding of the online business ideas, market, and top names that are ruling the market.
Top Reasons Why On-demand is a Successful Model
Customers have shifted their preference from mid of 2020; they prefer online shopping channels over traditional ones, according to pwc.com. However, looking at the growing opportunities and on-demand market growth, most businesses are investing in an online business model. 
On-demand meal delivery market has an outstanding share in the growing economy. The on-demand delivery market is forecasted to reach 161.74 billion by 2023. In addition, transportation, grocery delivery, and beauty services providers are also experiencing a jump in their online business after the freedom in the pandemic rules and regulations. There are lots of reasons that explain why on-demand is a successful model; it benefits customers by offering them with:
Quick and easier access to everything;

Vast options to choose from;

Enjoy the best offers, deals, and more from different businesses;

Provides comparative benefits.
On-demand business model not only benefits the customers but is very beneficial for businesses and provides them with numerous nuts to chew; these include:
Improves business reach;

Raise more profit;

It helps to build a strong network.
There are lots of benefits that businesses and customers get through on-demand platforms. The growth of the on-demand economy and apps is creating interest in entrepreneurs to know more about the digital space and spread their business roots online, and take it to a new height of success. Ignoring its importance can make enterprises lose lots of opportunities and lag behind their competitors in the market. 
Top On-Demand Player's Business Model Explained
About 45 million Americans have worked or offered on-demand services. The on-demand apps are thriving and have lots of benefits that any individual can imagine. However, there are many players who are serving in the market, from Uber to Instacart to Nykaa and more; most players have achieved great popularity among customers and gained huge profits by servicing millions of people.  
If you are looking to start an on-demand business, knowing top on-demand players' business models can prove beneficial. This will even help you choose the best business model for your venture, helping you achieve your business goals quickly. 
Uber Business Model
Uber follows a simple yet effective business model that makes it easier for riders to get taxis whenever and wherever they want. The ride-hailing giant has introduced an aggregate business model to the business market. This business model helps you develop a network of partners who work under your brand instead of developing their own. 
Drivers can register themselves to the platform by providing all the essential details and start offering their service once getting approval. They get a notification when riders place the ride-hailing request; they can choose to accept or reject it through the app. It makes it easier for riders to book the taxi service whenever and from wherever they want. 
Instacart Business Model
Instacart works to bring more convenience to its ideal customers. The day-to-day essentials delivery giant implements a sharing economy-based model and offers a great delivery experience by connecting shoppers with local food stores. The platform makes it convenient for customers to get their day-to-day essentials delivered right at their doors. 
Customers can search for nearby stores and choose the products they want to buy from the available list, make payments, and get the things delivered within a few minutes. In addition, local stores can partner with Instacart to expand their business reach and customer base; they have to pay a commission to the delivery giant to sell their products on the platform. 
Thumbtack Business Model
Thumbtack follows an effective business model that connects service providers with the people who need the service. The company follows a single revenue stream and charges a fixed price from the service provider to list their service on its platform. A user-friendly interface helps people find a service provider to get their daily chores completed faster. 
Thumbtack found that people are ready to spend more on house services. It is found that 40% of homeowners plan to invest approximately $5,000 in their one or other home services. 
Thumbtack enables millions of people in different corners of the world to instantly search for and hire professionals to complete their daily tasks like cleaning, plumbing, electric work, and more. The company also helps service professionals book more profitable jobs. 
Dunzo Business Model
Dunzo follows a hyperlocal business model and provides multi-delivery services. It caters to most customers' demands with its business app and website. The platform charges a small amount to deliver all your important documents or any other thing to your desired place whenever and wherever you need it. 
Dunzo saw a surge in its customer base during the pandemic spread; this resulted in increasing the company's revenue to 66 to 46 cores. The delivery giant is mainly focusing on grocery delivery within 10 to 20 minutes and setting up dark store networks in major cities. 
Urbanclap Business Model
Urbanclap is connecting users with service providers. The urban brand begins with the basic idea that anyone sitting at home could hire a professional as per their daily needs. Urbanclap lists two types of options:
Booking account

Section for a variable and fixed price
The urban company value reached around 2.8 billion post ESOP sales program. The company has satisfied the demand of people around the globe and is continually functioning to deliver leisurely access to users to large groups of professionals. 
Ending Note
There are many more on-demand business models that you can consider when it comes to starting a business online. But, before jumping to any venture, it becomes vital for you to perform deep analysis to find which business is good to start and make a profit in today's competitive market.