Blog
Make Attractive Sales' Offers with a Series of Random Popups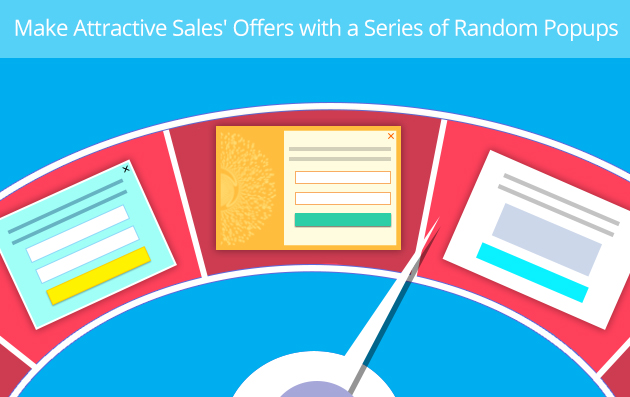 Popups are incredibly useful in capturing the attention of plausible customers when it comes to making attractive sales' offers. But as always, there has to be a catch! Popups have the adverse effect when not applied properly. Sometimes marketers overuse them by showing forceful, impolite and aggressive attitude. That's why programmers have worked out different solutions with the help of which online marketers can make popups soft and polite. One of these solutions is "Random popups" functionality.
What is "Random popups" functionality
Random popup is not a separate popup type. It's a feature that enables opening different popups randomly. This means that visitors will see a different offer in a popup everytime they come to your site. As a result, chances of conversion will increase.
Surprise offers
Suppose Cathy has just visited your e-commerce site and is looking for a stylish evening dress. During her visit you come up with an offer of discounted winter shoes through a popup. This time she may not be interested in this offer. But when she comes back to your site, she can see another attractive offer of yours. For example, you can show a popup advertising some accessories or trending makeup products.This time the lady may not resist the temptation. Great is the chance that she will accept the offer to purchase the product and be happy about it thanks to the wise "Random popups" functionality. It follows that you should:
Avoid being too predictable 🙂
Attract visitors with different popups on the same page on their every visit. You can activate "Random popups" functionality to make attractive sales' offers. Making use of "Random popups" functionality has many advantages:
1. You get a chance to attract customers applying different popup strategies
If you are following our blog, you already know that showing polite attitude is essential when it comes to the use of popups. Staffing a webpage with popups will be annoying, so less effective. "Random popups" functionality can solve this problem. Check this option in each popup you would like to show in a random sequence. As a result, a different popup will appear during every visit.
2. You can test which one of the popups brings in more conversions
Make different popup offers and test the effectiveness of each of them. For example, you can place an image popup and test its effectiveness in boosting conversions during a week. Then, place another popup and compare which one attracts more attention.
3. And show different discounted items on your ecommerce site
You can't know which one of your discounted items will attract more customers. Have fresh discount on winter shoes? Show the offer in a polite and attractive popup. If you have a number of other sales you would like to show visitors, "Random popups" functionality can help you to do that. Just make several popups advertising each of the sales' offers. Then, activate this feature to show a different offer everytime a visitor comes to your site.
Here is how to make a series of random popups
To activate "Random popups" functionality, go to the right corner of popup settings and check the corresponding feature. Activate the feature in the settings of popups that you would like to add into the random list. Also, place all of these popups on the same page or on all pages and click update.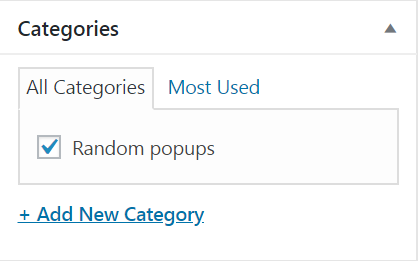 In Conclusion
"Random popups" functionality helps to show polite attitude when you have many popup types on a single page. Activating this feature ensures that a different popup opens every time the visitor visits your site. Also, activating "Random popups" functionality will be effective in boosting sales on an ecommerce store. If a visitor isn't attracted by the offer, another offer will be made through a popup on his/her next visit. What's more, through this feature you can also test the effectiveness of your popups.