Blog
How to Successfully Manage Multiple Social Media Accounts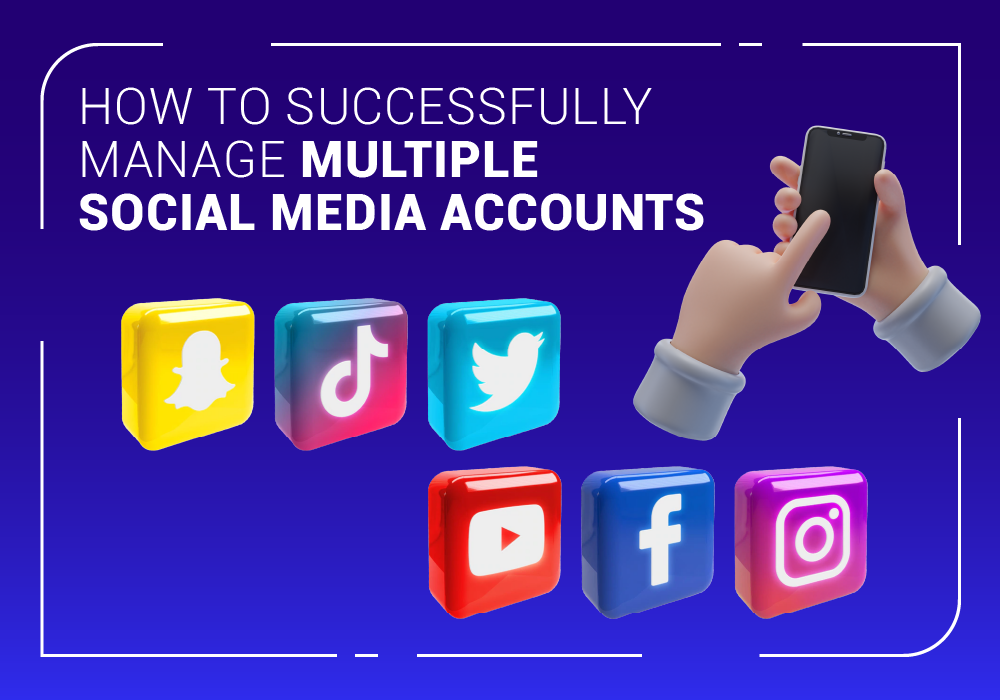 Whether you're a business looking to create a social media presence for yourself, an agency handling campaigns for multiple clients, or a freelancer earning an extra buck by running several social profiles, managing everything can be pretty burdensome. 
For your efforts to be effective, creative, and optimized, we bring you the tips to successfully run several profiles on social media.
The days when running a business social profile meant posting an amateur-looking photo taken with a phone, answering a couple of users' comments, and checking account notifications are long gone. 
Instead, social media managers of today spend nearly half of their days on social tools, measuring KPIs, ideating and creating content, analyzing audience's response, tracking competitors' work, etc.
This article will help anyone who wishes to scale their multi-profile social media management and significantly boost their social performance while saving time. 
Read on to discover how to run several social accounts and still get the most out of your social marketing efforts.
Social Media Management in Business: The Limbo Between Profits & Money Waste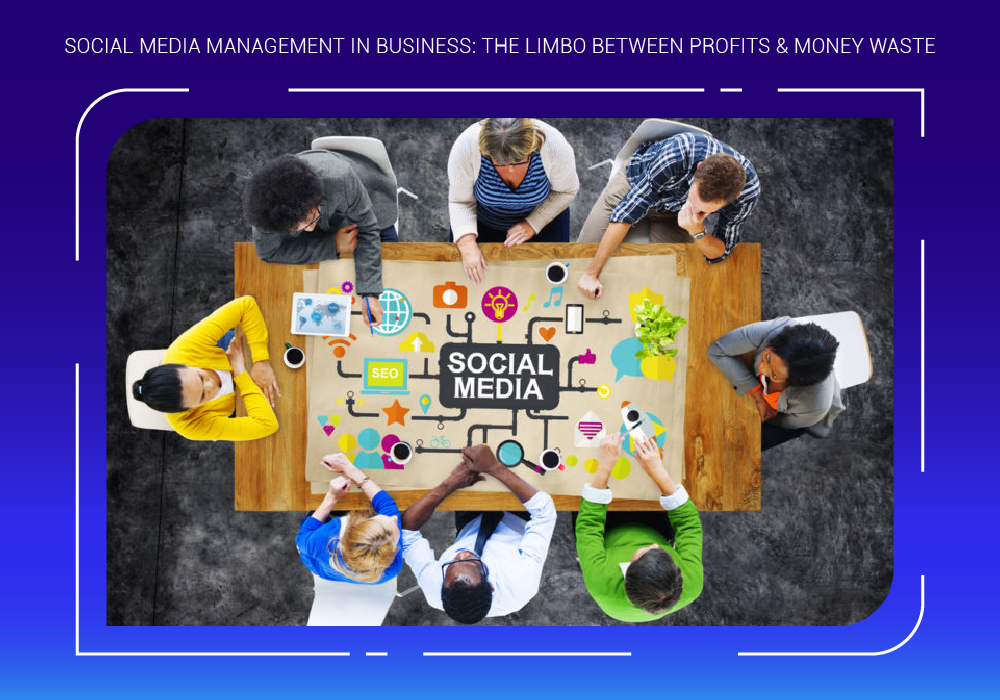 Social media management is an element of a business's digital marketing and social media strategies. Typical responsibilities of a social media manager are:
Analyzing the target audience

Developing an SMM strategy tailored to the business's needs and brand

Creating and distributing content across social media profiles

Monitoring online conversations and sentiment

Collaborating with influencers

Providing community management service

Tracking, measuring, and reporting on social media performance and ROI
The socials industry has become invaluable for businesses – their profits, brand awareness among audiences, and brand identity creation. 
Social media is home to over 4.62 billion global users, equating to 58.4 percent of the world population. In addition, social media ads brought in revenue of $153 billion in 2021 alone. 
Thus, it's no surprise the importance of social media for businesses has grown so much that 72% of companies use social media data in the decision-making process. With this valuable data, businesses can define their target audience so they can adjust marketing campaigns, and since nearly half of consumers use social platforms to discover new products, data helps businesses overcome eCommerce challenges.
However, investments in social media don't seem to pour enough into the very people who will manage them.
Namely, as SocialMediaPro's research suggests, a social media manager runs an average of three to ten social media accounts. A smaller but significant number of SMMs reported managing over 20 Facebook pages, while some noted even higher numbers, between 25 and 60.
Why Is Managing Multiple Social Accounts an Issue?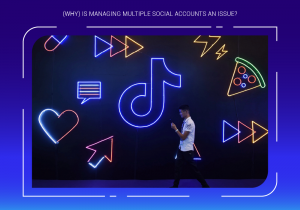 The last few years witnessed the birth of many social platforms, with existing ones either dying out or reinventing themselves to stay relevant. 
In 2021, TikTok surpassed Google as the most popular website of the year. At the beginning of 2022, the decade-long reign of Facebook came to a halt with stagnating user counts, as the social platform desperately clings to life by reinventing its purpose as its successor Meta.
Every day, a new social trend emerges, platforms' algorithms get updated, and (self-)proclaimed social media gurus share their latest dos and don'ts. 
Social media marketing strategies have become so elaborate that relying on guesses and hunches doesn't cut anymore.
Besides, each social network attracts a specific user group, boasts a unique type of content, and has a distinctive community culture, vocabulary, and expectations. The content that goes viral on one social platform might completely flop on another.
Managing multiple social media channels for a single business is challenging as you need to understand the fineness and trends of the social industry across the board. Conversely, doing SMM services for several different clients on a single social network means being in sync with multiple teams, and acquainted with various industries, brand identities, and marketing strategies.
The ideal scenario in the life of a social media manager is working as a dedicated SMM on a single social platform for one client. However, the opposite is the more typical case.
In the following section, discover the best tips to create successful and effective SMM strategies when managing several social media accounts.
Tips for SMMs To Efficiently Run Multiple Accounts

Create a Social Media Strategy 
For some of you reading this, "create a social media strategy" isn't much of an innovative tip; rather a no-brainer. Most of you are aware that developing a plan through defining social channels, target audience, key messaging and visuals, etc., helps establish goals and ensures that everything and everyone is in sync. 
However, some social media managers may poorly execute or altogether skip this step for whatever reason – e.g., such as lack of client brief, manager inexperience with running accounts, and adhering to previous client social media practices. 
Not having a plan of social activities may lead to brand inconsistencies across networks, poor performance on socials, and lack of ROI. Moreover, going blindly and posting for the sake of posting is a waste of time and money that may even tarnish your reputation among customers.
A well-defined strategy matters even more when running several accounts, as it helps you be on top of every activity at any moment.
Document Your Social Media Plan
Every aspect of your social media plan should be documented. From the metrics, goals, and style guides to posting calendar, audience attributes, and (yet to be) published copies and visuals, well-organized social media management materials help avoid redundant questions, prevent crisis during unplanned social activities, and expedite future campaigns.
Keep the materials both on a hard drive and online cloud to ensure data security. Split everything into appropriate folders, give adequate names to each file, and reference other relevant materials.
Documentation helps you streamline and optimize your daily tasks, minimizing the time to locate the needed files and the chance of error by posting another client's material. 
In addition, you'll be able to turn off your phone when on vacation, as everyone on the team will have access to your social media plan.
Create a Social Media Calendar
We suggest ideating a weekly calendar – daily doesn't help much, whereas a monthly plan might be too far in the distant future.
Having a weekly calendar can save you quite some time as you won't have to ideate and create content on a daily basis. On Mondays, you can plan social media activities for the entire week and spend the remaining days doing more creative and strategic tasks.
Besides, social media calendars allow you to see the bigger picture of where your social strategy is heading. Analyzing posts in isolation isn't as eye-opening as examining two months' worth of posts and identifying potential evolution in your visuals or copies.
With a social media calendar, it's less likely you'll mistakenly publish another client's post on the social account of a different business.
Schedule Social Media Posting
Social media tools have become more robust in recent years. Besides monitoring followers' count, audience sentiments, and competitors' activities, one feature, in particular, stands out – post scheduling.
Scheduling posts for clients' socials is a lifesaver. First, you need not wait for the exact time you planned on posting and do all the manual work, such as logging into the platform, writing copy, adding the visual, and posting. 
Automating your posting process means you create the post, choose the date and time to publish it and wait for the day/time to arrive. Then, the social tool or platform will post it automatically at the specified time.
Another perk of automating is that you can schedule posts even months in advance. Thus, you won't forget to publish any post when in a hurry or have to log in during the weekends or vacation to commemorate a particular day. 
Also, these automation tools allow you to schedule posts for different social media accounts, making you look like the ever-present hero that you are.
 Automate Social Media Monitoring & Reporting
Monitor your social media likes, mentions, and engagements to uncover who your audience is, what time is the best to post, which posts produce the most beneficial effects, and so on. 
By knowing all this invaluable data, you can easily optimize and streamline your future campaigns. 
Most social media tools feature automated reporting, meaning you can export weekly or monthly reports to all your clients effortlessly and on time.

Conclusion
Following these five tips will help you stay on top of all the details, strategies, and actions of your every social media client. 
Managing the social right does not only increase your clients' presence on social media but is also an amazing way to generate leads and build brand awareness.
Juggling multiple social media accounts without a detailed strategy, systematized documentation, and a bit of help from automation tools won't allow your social media management skills to come to light. 
Thus, follow the tips we've outlined to help both you and your clients achieve success.
Author bio
Travis Dillard is a business consultant and an organizational psychologist based in Arlington, Texas. Passionate about marketing, social networks, and business in general. In his spare time, he writes a lot about new business strategies and digital marketing for DigitalStrategyOne.