Blog
Bring Back Your Abandoning Visitors Through the Exit Intent Popup Event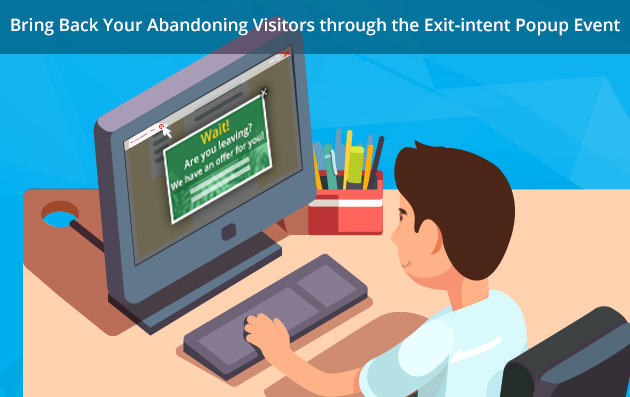 "Leaving so soon? Maybe we could have some coffee together?" This is how you usually convince your guests to stay with you a bit longer, don't you? Your guests will be tempted to join you due to a friendly invitation of yours. Did you know that you can show the same attitude to website visitors? The good news is that applying a special strategy calles exit-intent popup you will have the power to attract abandoning guests back to your site. What's more, through an engaging offer you will ultimately lead them to conversion. The idea is almost the same: you just suggest staying with you a bit longer making a tempting offer. So, let's get into the details on how we make use of this strategy on the online platform.
Exit Intent popup event
When speaking of popup events, we should give special regard to the exit-intent popup extension. This is a relevant popup window that appears just on time when a visitors shows signs of abandoning a website. The Javascript programming language and a web browser are used to track a visitor's intention to exit. Thus, when visitors move their mouse to the corresponding point with the intention to leave, you can come up with a popup. Through the latter, you can hold them back from performing the act. Also, consider that this is a popup event, not a separate popup type. Accordingly, you can give it to any popup. For example, if you set an exit-intent event to a subscription popup, you will have two advantages:
You will prevent visitors from leaving your site
You will have their emails to send them special sales and promotions.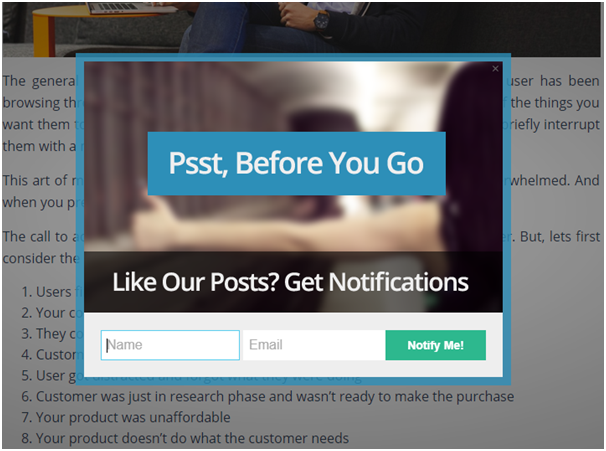 As mentioned, you can find "exit-intent options" section in each popup as you can give this feature to almost any popup type. In this section you can configure the settings so that you get soft, aggressive or mixed (including both soft and aggressive modes) popups. However, the general tendency shows that soft and polite popups tend to receive more appreciation.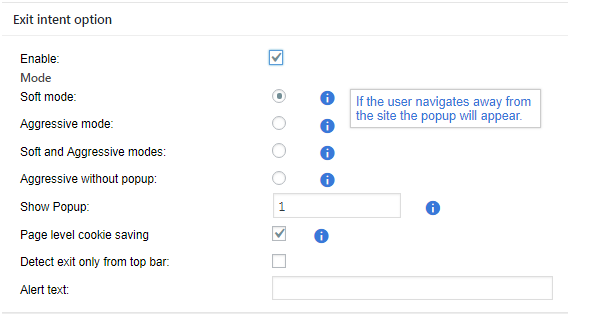 Offer Incentives to Your Visitors 
Thus, if you are thinking of an online strategy to hold back the guests from abandoning your site, exit-intent feature is a perfect choice. You can integrate an attractive image and a persuasive text into a popup to make it even more influential. Also, give a good reason to your visitors to stay with you. Think of any possible advantages you could surprise them with. These can include making discount offers, enabling free shipping, sending free materials to their inbox, etc. Well, you could also offer online guests a cup of coffee for staying with you if your business operates in a relevant industry 🙂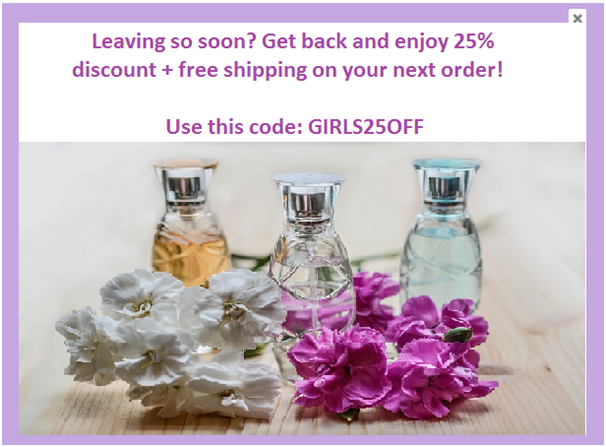 To Wrap it Up
Exit-Intent popup is the only popup event that allows to come up with a mutually beneficial offer just in time a visitor wants to leave. Just make attractive offers to hold them back from the act of abandonment. In short, be more persistent with the ultimate goals you would like to achieve and the fruitful results will not make you wait long!