Blog
8 Ways to Attract more Customers on March 8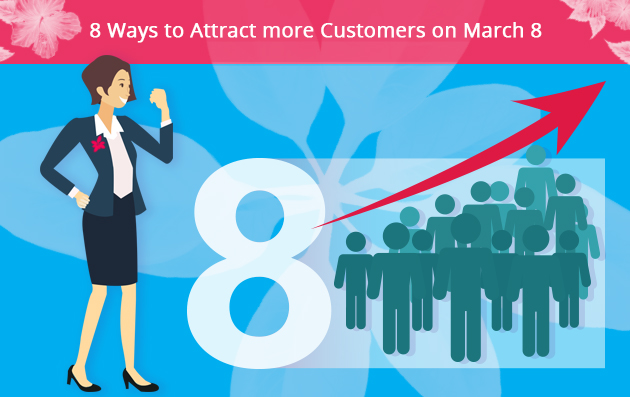 Women's day is one of the most exciting holidays that creates a lovely mood and a gentle spring atmosphere with beautiful flowers being sold all around. And both men and women are busy buying gifts for their mothers, sisters, relatives and friends. Some women even buy presents for themselves. So, this holiday creates a brilliant opportunity for retailers to offer their product and services both online and in stores. As an online seller, you should apply different marketing strategies to actively promote your offers and to outperform competitors. Let's explore 8 types of popups that will help you attract more customers on International Women's day.
Subscription popup
Create a subscription popup to add your subscribers for the forthcoming Women's Day. This is a compact window that will offer your site visitors to subscribe to your updates. You only need to place this popup before March 8 so as you have time to gather submissions. Then, you should start sending email offers to your future customers before the celebrations.
Thinking of adding fields to the standard subscription form? MailChimp and AWeber popup extensions are a perfect fit for it. Including MailChimp or AWeber form in your popup, you can outsource additional information like phone, address, interests, birthdate, etc. about your subscribers in order to segment them better.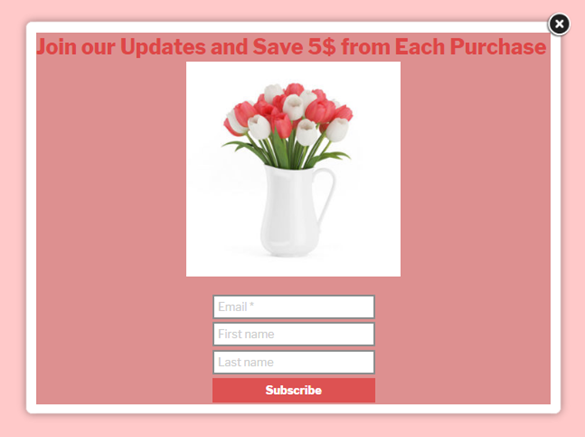 Countdown popup
 This popup solution comes to announce your March 8 special discounts ending. The decreasing numbers on the window will excite a feeling of urgency in your customers and make them aware that the sales are going to end soon. So, people will be in a haste to avail of your products and/or services. In addition, you can also give a spring hint to your popup by adding a picture with beautiful flowers.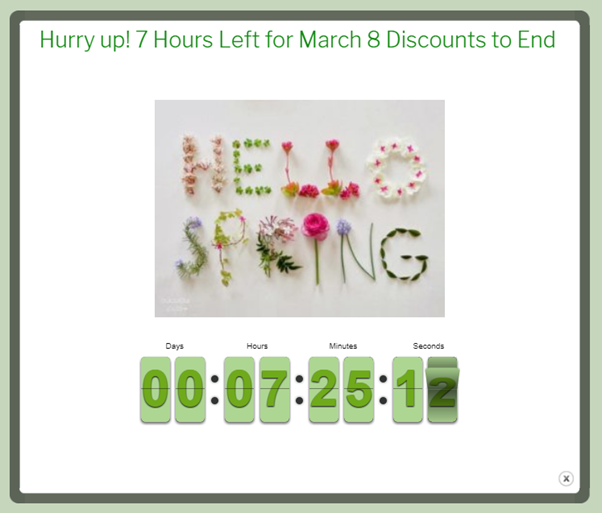 Image popup
 To make an attractive image popup you should design an eye-catching image where you can also make use of the power of words. More specifically, think of a persuasive text to include into your image. For example, through a text message, you can announce of your special sales' offers for the 8th of March.
Facebook popup
 On March 8 web users will certainly be very active on Facebook. Then why not let them do the Facebook sharing for you? All you need to do is to create and place a Facebook popup on your  website. When your site visitors see your beneficial offers, they will be tempted to like your page and share it with their Facebook friends. Just fill in your Facebook page url in "Facebook options" section when making your Facebook popup.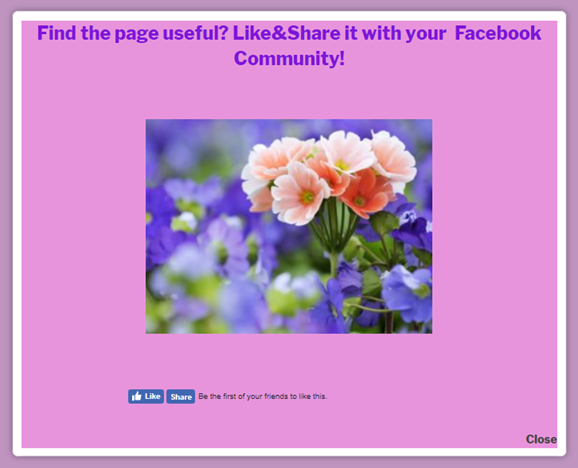 Social popup
 If you would like to enable social sharing on multiple social media platforms, then placing a social popup on your website will be sure to serve this purpose. Again, your website visitors will share your offers with their social media community if they find them useful. For instance, your social popup can look like this: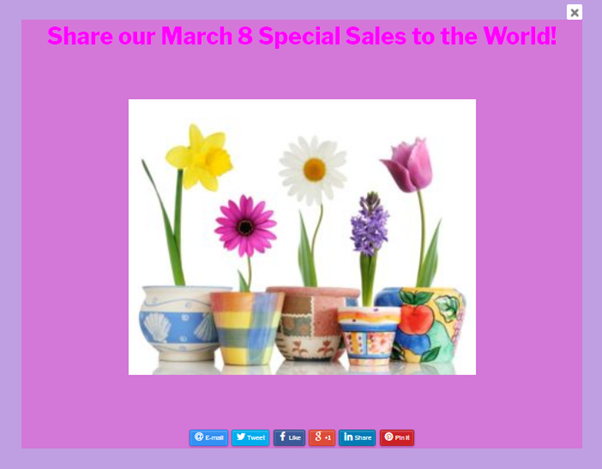 Video popup
This is an effective marketing strategy with the help of which you can show your video in a popup window. For example, you can make an attractive video, place it on YouTube, then you can take the url of your video and make a video popup. This way you will multiply the effectiveness of your video marketing campaigns. Now you can easily create awesome free marketing plan templates for your customers.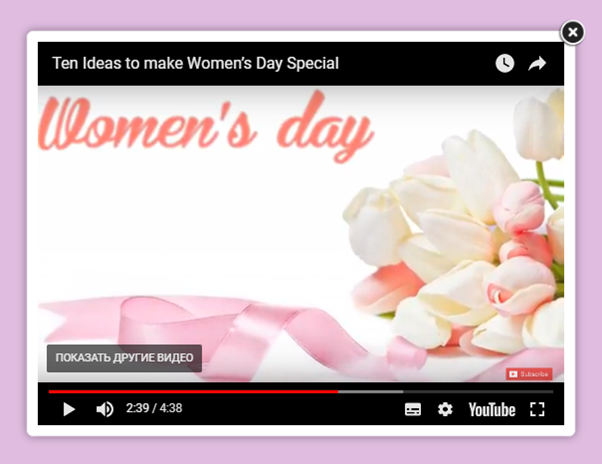 Exit-intent extension
 When the exit-intent option is activated, your popup will appear at the moment your website visitors are about to abandon your site by moving their mouse to the "X" button. Consider that this is your last chance to attract your visitors back to your website and to convince them to make a conversion. For example, if you own an online store, you can persuade your visitors to come back and enjoy discounts and/or free shipping on their following orders. If you act in a correct way, you can even turn former abandoning visitors into loyal customers.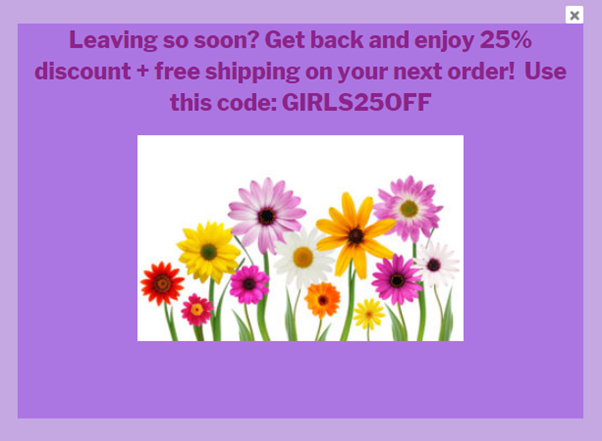 AdBlock popup
 The idea of an AdBlock popup lies in the necessity to detect adblocking software application by a web user. Then, you can include a text message into your popup politely asking to turn off Adblock and enjoy special offers by your partners that are only available through advertisements on your website.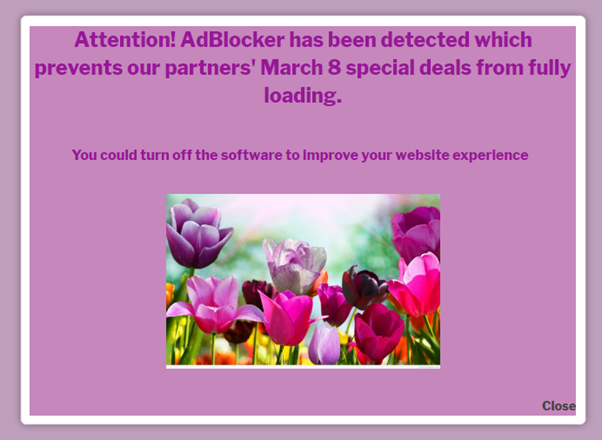 Additional notes
 Thus, through this article, we tried to introduce you to the different types of popups. However, you are not supposed to apply all of these popups on your website at once. You only need to choose a popup or two – those that can best serve your online marketing purposes.
Don't Forget to
 Be especially attentive to our exceptional discount offers that start before the actual celebrations. This is done for our customers so as they have enough time to fix popups comfortably on their websites.