Blog
8 Ways to Increase Sales: Why Social Media Matters?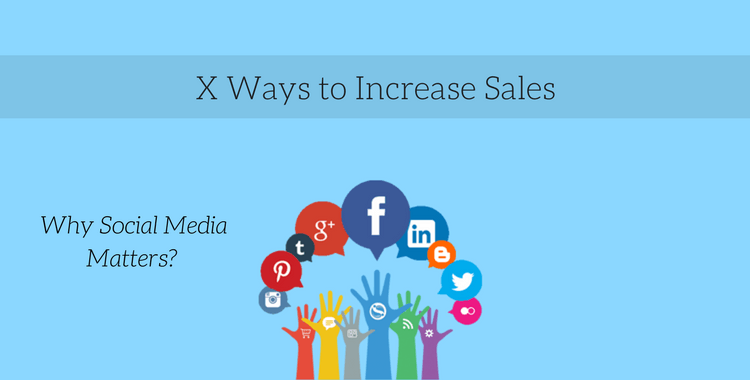 It`s not a mystery that social media is a key to prosperous business running. With the help of marketing strategy and step-by-step plan, you can not only attract qualified audience to your website but drive sales too. However, everything isn't so straightforward as it seems to be. Unfortunately, not every merchant understands that successful selling is about building solid relationships with your customers using:
an accurate approach
smart call-to-action
It won`t be a mistake or exaggeration to say that today's consumer is capricious one. Now, creating profile pages on social networks like Facebook, Instagram, Twitter is not enough to make your business blossom. These are just the introductory steps that require hard work and consistency in your further moves. To simplify the process of turning your newbie business into profitable one, here are the top effective ways how to take your sales to new heights.# Find the best "place" to interact with your audience
Before starting selling via social networks, it's paramount to learn your prospects in advance.  What SM channel they are most active: Facebook, Instagram, Twitter or all at once?  Everything depends on your product type. Of course, there are no restrictions; you can have many accounts. However, it`s better to determine the most "crowded" place where your target audience finds best for chilling out.
Builtwith.com demonstrates us amazing research results presenting the world's beloved social media channels.Facebook is a leader here. It counts over 50 million business accounts in its records and becomes a powerful channel to sell online. Creating e-store on Facebook is simple: just add the necessary products information, manage orders and perform payment transactions straightaway on the SM platform.  What`s more, you can integrate Facebook with an existing store.
The discussion about choosing social media networks can fill the book. You should take into account that there isn`t good or bad solution, and unfortunately, we cannot accurately say which one will work best for you. Take your time,  learning your audience and, in the long, focus on that SM channels that will earn you big traffic.# Engage in conversation
The seasoned retailers understand how important it is to be a part of hot discussions, latest events, and news. Without social media, you lose this all. If you want to be up to date retailer and cherish your business reputation, Twitter is an ideal choice. The info there is spread with the speed of light enabling you to catch up with the hottest discussions.# Deliver useful content on regular basis
Sharing content and providing users with helpful and relevant information are two totally different things. Don't be greedy on creative ideas; people are already tired of identical posts. Don't be propagandic, write at ease and rationally. Make it eye-catching with the help of embedded videos, images, popups, etс.# Use Social Sharing Buttons
Social sharing buttons become a goldmine for thousands of online retailers who wish to increase the exposure to their websites.  It`ll help customers to spread out your products, images, blog post or whatever within one click. In its turn, you`ll win new prospects and eventually convert them into customers.# Use Buy Buttons
Concerning Buy Buttons, this is an ultimate way to simplify the shoppers` purchase procedure allowing them to shop within social networks. Two world-known social networks can boast of such functionality: Facebook with their Buy button and Pinterest with Buyable pins.
If you run the Facebook store, you can easily showcase your brilliant goods, display exclusive merchandise and lead the conversation with your potential buyers.# Go mobile
Since the fact that 62% of smartphone users performed an online purchase directly via their devices, no doubts are left concerning mobile experience necessity. Based on invespcro.com report, mobile devices take 19% of entire US sales, and the numbers are expected to increase by 27%. One more interesting fact is about earned money (Check the chart below).# Convert visitors from SN with popups
This is one of most efficient solutions to convert users into leads.  They fulfill various needs and can be presented differently.  You can use popups when the visitor from social network came to your website, but he/she didn`t make a purchase. By means of popup, you can please the shopper with a beneficial coupon or an attractive discount in exchange for an email. As a result, you`ll get a new happy customer with no loss of your productivity. Below is an example of the popup with the discount offer.High-quality pop-ups will allow you to be in touch with your audience and boost social media following. To do that all you need is to make up a Social Popups with share buttons and allow your visitors to spread out your content over various social channels.
Make your business visible. Use popups to promote your products through images, videos, unique offers, discounts in an engaging way.# Run ad campaigns
If your budget allows you some extra spending, don`t lose the opportunity gain more visibility. Many of online store owners choose Facebook ads. It makes sense if taking into consideration even that fact that the platform is a home for 1.32 billion users.  The main benefits of Facebook ads that they are visual, relevant and contain clear call-to-action. A huge plus is that they're mobile responsive, there are far more chances that the number of smartphone users we were talking about previously will be "caught" and attracted in time.
It's vital to mention the advantages of remarketing campaign. You can display them to those users who visited your website but haven't completed a purchase.To sum up, we can say that though social media plays a crucial role in gaining more audience, it's still just the source of traffic. The conversion in its turn primarily depends on how much effort you put into setting up your e-store. Your lifesavers may be a high-quality service that will help you to create the user-engaging popups and feature-rich shopping cart with Buy buttons functionality. If your current shopping cart doesn't meet your needs, it's wise to consider cart migration elsewhere.
Choose the approach that suits your target and opportunities, widen your retail horizons and be in harmony with your buyers!